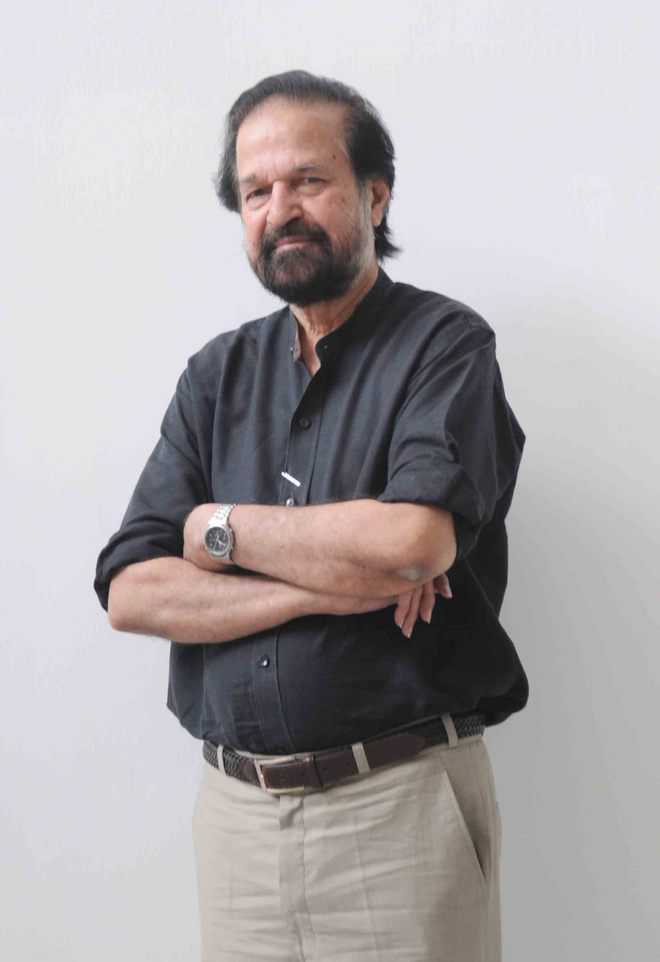 Nonika Singh
His art has been dubbed by critic and friend Keshav Malik as 'terra incognito' and rightly so, for the surreal and mystical come together to create an expression that is as meaningful as inscrutable. However, in India's renowned artist Rameshwar Broota, the person, what you see is what you get. No pompous self-appraisals or blowing the trumpet of his numerous achievements ensue. Law of distraction is for lesser mortals like you and me, Broota would not let anything, attraction or distraction, stand in the way of his creativity and art.
Back in time he stayed away from the female form for how could he be shackled/ overpowered by its physical beauty. Not the one to prettify images, he instead chose the robust male form, often virile, visceral and nude to make many a sociopolitical comment. In Chandigarh for a slide-lecture show organised by Chandigarh Lalit Kala Akademy, as he jogs down the memory lane, he remembers all too clearly the days when making art was a challenge and his works would sell for a meagre Rs 1,400.
Capture the real soul
And equally importantly, his eyes turn moist when he talks of art collectors willing to pay much more than what was his prevalent market price back then. Zeroes affixed to price tags by which his works sell today do not affect him. Rather he makes a pointed request not to mention the astronomical sums which his works fetch at art auctions such as Sotheby. Art, as he understands it, rather has been one with all his life, is all about transforming the canvas to capture the real soul of art.
No wonder he fails to fathom the concept of factory art, where the process of creation is offloaded to artisans. "If an artist proclaims to have only conceived an art work, then he is just a visualiser and organizer, and must give due credit to all those involved in making it just as a filmmaker does."
Re-inventing himself
For Broota, the intimate feel of painting begins with stretching the canvass itself. Laboriously working in his signature scratch technique, he constantly reinvents himself, often deliberately. After 10 years of working on his famous Ape series, one fine day he decided to banish the image of gorilla from his mindscape. Ditto for the Man series, as architectural elements, inscription and other abstract elements replaced the muscular male form. Not the one to be easily satisfied, the artist who has set exemplary standards for himself and has steadfastly said no to commissioned assignments, has often torn complete works of his. Lest someone chances upon these and exclaim, "Oh, this is what Broota painted…is this art?"
So what is art? "One that enlightens and elevates you, takes you closer to humanity, in short, it humanises you." His, of course, tantalizes, teases and enraptures at the same time, evoking the rapturous wah each time viewers confront its timeless aesthetics and universal appeal.
nonikasingh@tribunemail.com
Nudity in art
Though Rameshwar Broota, head of the Department of Art, Triveni Kala Sangam, New Delhi, has painted explicit nude figures, he is not an out-and-out votary of nudity. Rather between the freedom of expression and the right to exhibit, he senses a fine line just as there is one between nudity and porn. "Art is not meant to offend sensibilities, and has to be showcased in the right place and in the right context. Nudity can't be taken everywhere."
Medium matters
Some of his views might make you want to dismiss him as orthodox traditionalist caught in a time warp. But Broota is very much in sync with changing times. When computer first came to India, he not only bought one for a whopping two lakh rupees but at the ripe age of 55 learnt all he could to master digital art. A photographer, a painter and a digital artist, he has even made three short films. Currently he is working with the medium of raisin for the two-dimensional sculptural feel. "Each medium has its strengths and weaknesses. But for me it's always one medium at a time."
Top News
Harried passengers take to social media to vent their ire at...
Lapid had stirred a massive controversy by terming Vivek Agn...
Final turnout to be higher as voting process continued at po...
DigiYatra will provide seamless entry and embarkation proces...
His song 'Mahakaal' removed from YouTube after 19 hours