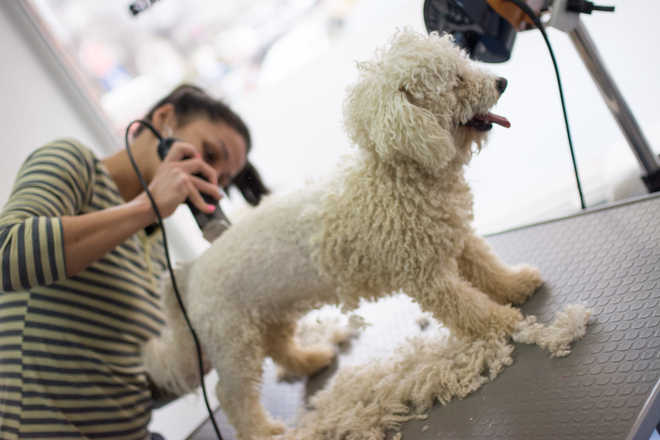 Utkarsh Gulati
Summers are here and while we humans are busy making plans to go out and have fun, things can get challenging for our furry little friends. Dogs are known for having body temperatures that are warmer than ours and the responsibility of keeping them cool in the soaring weather falls on the dog owners.
Here are some tips shared by the veterinarians in the city for pet parents to keep their dogs healthy this summer.
Plan your walks
Dogs should not be exposed to direct sunlight for more than an hour as they can get exhausted and dehydrated easily. One should take their pet out on a walk before 7 am in the morning and after 7 pm in the evening to avoid the contact of direct sunlight on their dogs.
Heat stroke symptoms
n Heavy panting
n Vomiting, fatigue or diarrhea
n Reduced food intake or activity
n Loss of consciousness
These are signs of heat related problems in dogs, which can prove to be fatal if not treated. Dr H.S. Growar, a veterinarian based in Chandigarh says, "Dealing with the issue of heat stroke is a must for every pet owner. They must maintain a cool temperature at home for the sake of their dogs."
Take care of the diet
A well-fed dog is a happy dog but make sure you are not serving anything spicy, salty or hot for it can increase the chances of gastritis among pets as advised by Dr. M.R. Singla from Panchkula."Old food must be replaced quickly as it gets spoilt and can weaken a dog's immunity system. Abrupt change in diet can also be problematic for a dog's health. The chances of gastritis among dogs decrease if they are served labelled dog foods like Pedigree, Royal Canine, etc. A bowl of water must be placed right next to the food and the water must be replaced after every 3 hours so the dog doesn't drink contaminated water."
Groom your pet
A thick coat in furry dogs makes them feel hot, which makes it a necessity to get them groomed when required for not only it helps maintain their body temperatures but also helps expose the parasites on their body.
Car ride can be fatal
Travelling in a car can be as adventurous for your dog as it can be for you, but your furry friend can end up falling sick if proper precautions aren't taken. "Always make sure the temperature of a car is maintained before letting your dog sit inside as they can get dehydrated and there is a chance of them suffering from a heat stroke. Try not to leave your pet alone in a car for the temperature inside can reach up to 120 degree in a matter of minutes." said Dr. Anil Banwala.
Don't forget to visit a vet
Your dog has the tendency of falling sick this summer as much as you, so while you are making the most out of your summer holidays don't forget your furry friends and make sure you take your dog to the vet for monthly check ups as it can help prevent your furry friend from falling sick in the future.