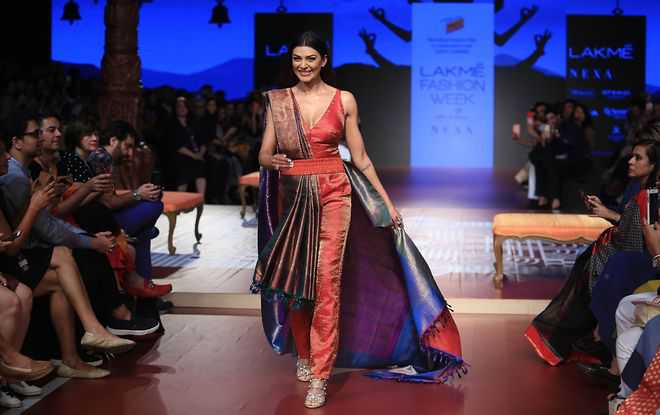 What was once considered a simple fabric, Khadi, also known as the fabric of freedom, was given a chic and glamorous twist by designer Jewellyn Alvares and Buna by Pallavi Shantam at the ongoing Lakme Fashion Week.
Day 2 of the fashion gala, being held at the St Regis, Mumbai, was dedicated to sustainable fashion. It also paid a tribute to the rich heritage of Indian hand woven luxury. Four designers showcased their latest lines.
As the tune of Vande Mataram played in the show area, a collection by Alvares's eponymous label Converge had a new line in Khadi for men. It comprised a wide range of detailed asymmetric layering of trousers, tunics, pants, shirts and outwear for casual and dress occasions.
Alvares said his collection was inspired by the poem The Lonely Winding Road and he understood the versatility of the fabric once he started working with it.
The label Buna by Pallavi Shantam offered breezy garments in the palette of pinks, mustard, ecru and charcoal.
The other two designers who showcased were Lars Anderson and label The Third Floor Clothing by Saloni Sakaria, too showcased a wonderful array of garments made of the fabric at the show, which was presented by the Khadi and Village Industries Commission (KVIC). New York-based designer Anderson said that he wants to bring "Khadi in the forefront". —IANS
Top Stories