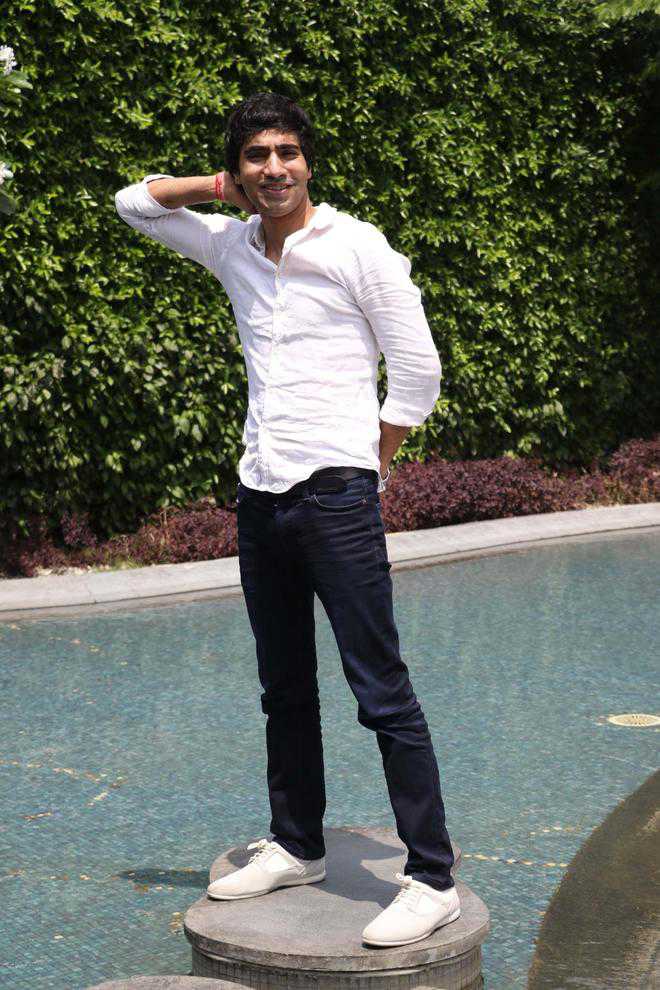 Sanjam Preet Singh
There is a sub-plot to every story, hidden beneath the surface.
So when Arfi Lamba is asked about his journey from an engineer to an actor, he smiles, says half a word but restrains himself. Egged on by students, he smiles again and starts to narrate his tale.
He was working in Engineers India Limited, New Delhi. One day, his girlfriend expressed her desire to contest for Miss India and, with that, she walked out of the relationship. A beauty queen's engineer-boyfriend did not fit her scheme of things.
This ignited a flame in Arfi's mind of becoming an actor. Good looking as he is and muscular built that he had then helped him bag few modeling assignments. And then he landed in Mumbai.
"I had this notion that Yash Chopra will spot me in some party and I will become the next superstar," he says, sending students into peals of laughter.
By the way, this free-wheeling conversation took place with media students of Punjabi University, Patiala, last week. He was in the university for the screening of his short film Murakh (The Idiot).
"Today, we both are actors," Arfi says. He doesn't reveal her name, though many from the audience try to coax him to throw a hint about her. "I met her three years later on a street in Mumbai. We hugged each other and went our ways." That's it. The end of chapter.
In those three years, Arfi learnt the craft of acting from Dinesh Thakur, Mahabano Modi Kotwal and Vinod Nahri. Along the way, he featured in films Slumdog Millionarie (2009), Prague (2013), Fugly (2014) and Singh is Bliing (2015), and short movies.
Today, a few films and a production house under his belt, Arfi is not complacent. He keeps on working on his craft. He has attended 14 acting workshops across the world. The last one was in May in Berlin. "A teacher from New York, Sandra Seacat, taught me to work on myself. Talk to yourself, work at the sub-conscious level, she told me." "Don't you want to work in Punjabi films?" a student asks.
"I want to, but it seems people here don't want to cast me. One reason can be I am not a singer," he says and the audience bursts out laughing.
A loaded statement
After the din subsides, he lets us into his inner self. "I grew up in Moga during the days of terrorism. My mother used to ask me to be home before dark. I am still caught up with that image of Punjab. I need to make peace with my hometown," he says.
---
Murakh gets talking
Beef-eating, Islamophobia, media trial, agricultural crisis… all rolled into an 18-minute movie titled Murakh (The Idiot) directed by Ruchi Joshi and Sriram Ganpathy. It is satirical take on the times we live in. The film is about a naive Muslim guy, played by Arfi Lamba, who tries to hijack a domestic plane so that he could meet his wife in Australia. Caught by the police, he is interrogated about his motive and this set off a series of satirical takes on issues our country faces. Arfi says, "Like it or hate it, the movie should initiate a discussion. That is the role of art – to get people talking." The film has gone places. Murakh was part of the 39th Cairo International Film Festival and International Documentary and Short Film Festival of Kerala 2018, among other festivals.