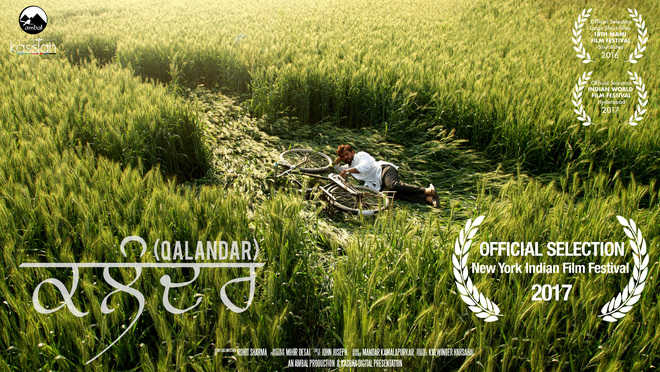 Sanjam Preet Singh
Happiness and sadness, joy and despair. This is life, unfair and unbalanced. This sums up a Punjabi short film titled Qalandar, directed and written by Rohit Sharma.
Qalandars are wandering Sufi dervishes.
The film is about the "struggle" of a 35-year-old man from Punjab, who tries to learn cycling for a role in a movie. The titular character played by Siddhartha Sen is a dabbler by nature. Music, cinema and books interest him, making him a misfit in his family and village. His age and intellect becomes his biggest roadblock in learning cycling. Such a trivial pursuit becomes the chase of his life.
"He (Qalandar) has to let go of his age and intellect to attain the balance of cycling. Cycling is used as a metaphor to say things in a broader way," says Rohit (34) from Jammu. He is a former student of Punjab University's theatre department.
Ask him how the idea of Qalandar dawned on him and he says, "The film originated from a thought of someone not being able to do something very basic and is too old to even attempt that."
The thought of Qalandar has been living inside him for a few years. Rohit says, "I learnt cycling quite late in my life. And when I learnt it, I realised there's a charm about riding a bicycle. It seems like magic. You are defying gravity in a way. When I told my uncle about the story idea, he reacted to it by quoting Albert Einstein, 'Life is just like riding a bicycle. To keep your balance, you must keep moving.'"
The 26-minute film is set in a village of Punjab beyond the clichés of mustard fields, Bhangra, food and flamboyance. The picture of Punjab etched in Rohit's mind is that of serenity. This is what he has tried to portray in the film. Qalandar premiered at the New York Indian Film Festival on May 3.
---
Super start
Rohit Sharma started as an assistant director on My Name is Khan and then went on to work as a script supervisor on several Indian and international films such as Raanjhanaa, Titli, The Other Side of The Door, and The Song of Scorpions. He has co-directed a short film Darwaazon Wala Ghar (2012). Rohit would like to make a film in Dogri, his mother tongue.
Top Stories