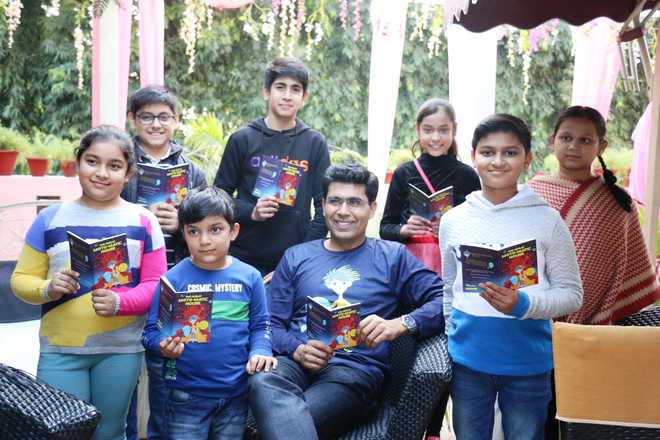 Mona
Brijesh Luthra was often caught reading fiction under the desk during his school days. A corporate career later, his wife grudged him for carrying 30-40 books on each of their trip back to India from Switzerland— place they call home. So, when he decided to take a sabbatical from his banking/consulting career to turn an author, there were hardly any surprises.
Well, except for his children who were not used to seeing dad home early in the evenings. In fact, Brijesh's first brush with writing books was on their birthdays. He made sure his son and daughter each got a book written specially for them. "The Great Moto-Matic House is a story of a boy who likes to call himself Ziptux and wants to make crazy machines that do household chores and undertakes space travel for the same," shared Brijesh, at the launch of the book in Chandigarh on Sunday. Fond of satire writers Woody Allen and Douglas Adams, Italian fables writer Italo Calvino and kids'current favourite Roald Dahl, this newly minted author intends to make writing his full-time career. And, it is not his only passion, cricket is another. He coaches Swiss national U-15 cricket team apart from being fond of jazz and blues.
His interest in reading, he credits to his mother who is an avid reader and this love is what he wants to pass on to the children of the gadget generation. "Books must reclaim their position to be kids' best friends," he insists. Why Chandigarh for promotions, we ask, "Because this is one city where books are still read probably more than any other in the country," shares he before rushing off to Delhi.
To know Dibbly's journey to the best DIY store, only a few trillion light years away, with earth's stupidest inventor who gets in the way, you got to grab a copy of The Great Moto-Matic House!
Top News
Hundreds are still believed to be trapped under rubble, and ...
Chances of Parliament taking up a discussion on Motion of Th...
A Muslim man alleged he was assaulted and abused in the name...
Frank Hoogerbeets describes himself one having 'utmost respe...
Will be produced before the competent court in Mohali on Tue...