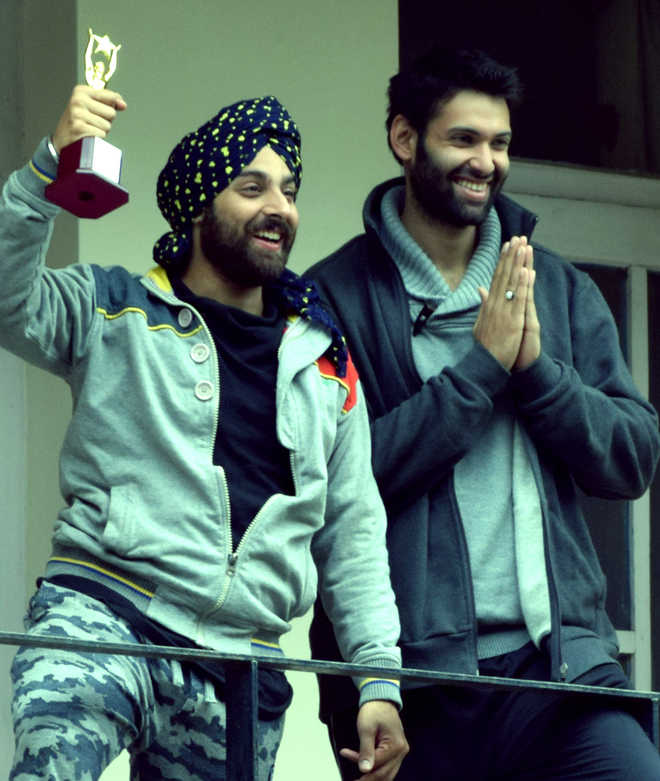 Mona
For Chandigarh boy Kanwalpreet Singh everything starts with zubaan. Tastes and talks make a significant part of his life. But as luck would have it, it's only when it was taken away from him to play his namesake in Zubaan, he bagged his first award!
Story of a mute shop assistant Kanwal, who happens to witness a murder and subsequently his ordeals with the police is the plot of this 25-minute film that brings to the fore the significant development that India still awaits—a uniform act on witness protection.
Written, directed and produced by Ojaswwee Sharma, Zubaan isn't the first film in which this director-actor duo has worked together. "When the story was narrated to me, I was moved. But I was still unsure if I could pull off a character so unlike me," says flamboyant Kanwalpreet, who is in love with colourful, loud life. This short film made him don ragged clothes and slippers and a tedi pagg. But this character won him the Best Actor (Short Films) award at the recently concluded Haryana International Film Festival.
The film has been doing rounds of the international film circuits as official entry to prestigious film fests and markets like NFDC Film Bazaar, Goa; Sikhlens: Sikh Arts & Film Festival, California; Vancouver International South Asian Film Festival, Canada; Echo Film Festival BRICS (Russia), New Delhi Short Film Festival 2017 and The Rajasthan International Short Film Festivals. It won "Special Mention" (Best Film) at New Delhi Short Film Festival 2017. The actor shares, "The credit goes to my director with who I share an amazing personal-professional relationship. And to be able to do something that I never tried before, only Ojaswwee Sir could get it right."
Making an Indie film sure is one challenging field. Ojaswwee Sharma shares, "Laurels fuel my courage to venture into newer stories, different formats, more actors and faster consumption. Festivals remain the place where content and execution stand stronger than the star presence."
Official Selection at seven international film festivals yet-to-release Zubaan is shot in and around Chandigarh. "The shoot that carried on till the wee hours had everyone of us equally involved, no wonder it's getting so much love," shares Kanwalpreet, in Chandigarh revving up for another such collaboration.
Gala affair
The second Haryana International Film Festival had 183 entries from 13 countries in about 18 languages. Thirty selected feature and short films from 11 languages were screened at Chaudhary Charan Singh Hisar Agricultural University, Hisar. "Just like its last outing, HIFF got a great response. The auditorium where the screenings took place had a capacity of about 2,000 and it was packed," shares festival director Dharmendra Dangi.