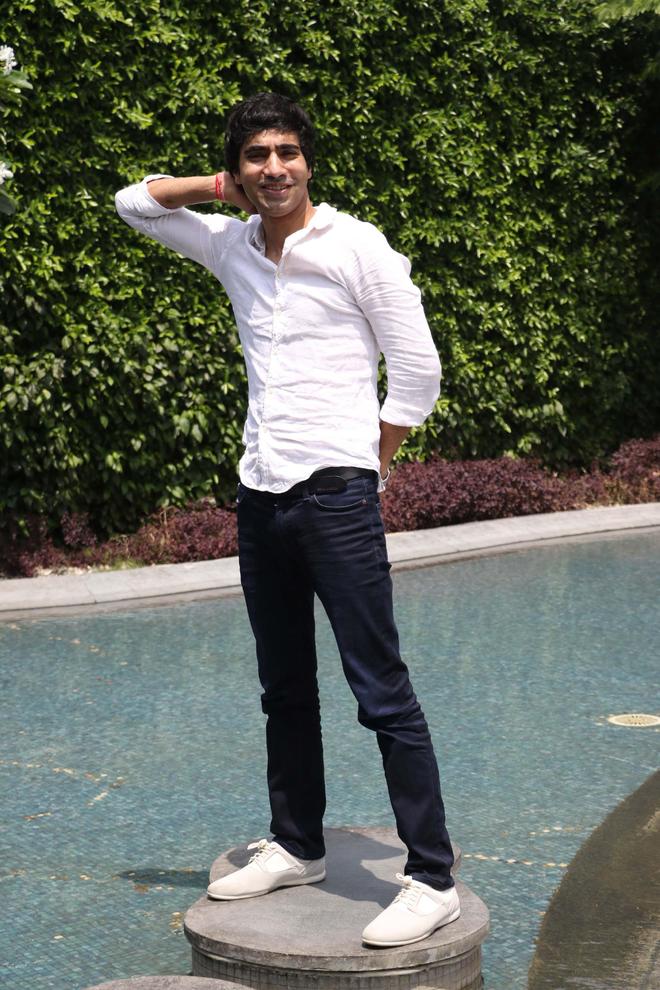 Jasmine Singh
A loose crisp white shirt, denim jeans, and 'stylishly' unkempt hair, actor Arfi Lamba swings around with an air of cool confidence. But each time he steals a glance to look at his mobile phone, he looks perturbed.
A national paper carried the news about his fight with the director, Prabhudeva, on the sets of their upcoming film Singh Is Bling. After a quick thought, he utters, "I just told them that Prabhudeva has been supportive, and I would normally freeze in his presence, because he is so good. He is a director who knows how to nicely extract work from his actors."
Now, as the news has invited a lot of tweets and re-tweets, which place Arfi in a kind of uncomfortable situation, he is back to telling himself, "Filmdom is about ups and downs and rumours. Thankfully, I have loads of friends who know me and stand by me," shares the young actor from Moga, who counts producer Ashwin, director Kabir Sadanand as his 'anytime fall back' friend and mentor from the industry. He detaches himself from the rumour for the moment, swirls in his chair, talking about the one helluva of an experience called Singh Is Bling. "I play Akshay Kumar's friend in the film, and it is a fairly long and noticeable role," adds Arfi, who would talk at length about Akshay's goodness. "Akshay sir is fabulous; he was extremely encouraging to me throughout the film. He was always there to guide me. In fact, Akshay is one perfect example of why there is more to look forward in this industry."
And looking forward is something that keeps this engineer-turned-actor going. In addition to acting in films like Prague and Fugly, Arfi also co-runs a production house. "Our recent production is a film called Love and it is opening in Estonia," shares Arfi, once again looking at his phone. The smile is back, "I am being tweeted."
Arfi has seen his share of struggles when he ventured into the industry, and now lists what make things work in Bollywood. "Hard work, being present at the right place at the right time and a good promotional team, which helps to create the right image for an actor." There is no chronological order to be followed here.
With days left for the release of Singh Is Bling, Arfi cannot undermine the importance of numbers in B-town. "If my first film had made 50 or more crores, I would be doing two films by now. For commercial cinema, numbers play an important role."
And looks, is this also important? "This is a misconception. In commercial cinema looks matter to an extent, but nothing works more than talent. Nawazuddin Sidiqui is an example of an actor who has made it with pure talent," adds the actor who would love to work in a Punjabi film.
Arfi has a wish-list like any actor, the kind of directors he would want to work with, and kind of roles he would want to do. "I would not do totally arty roles, but but work in a film like Court is something I would love to do."
Arfi is signed with the production house, Grazing Goat pictures, for a three-film contract. "I am privileged to have worked with Akshay Kumar, and in the next films also I would be doing my best, but yes, I would always consider those roles in which I am doing a noticeable role," Arfi looks at his cell phone, "Re-tweets and tweets… I am blinging, what say!"
jasmine@tribunemail.com