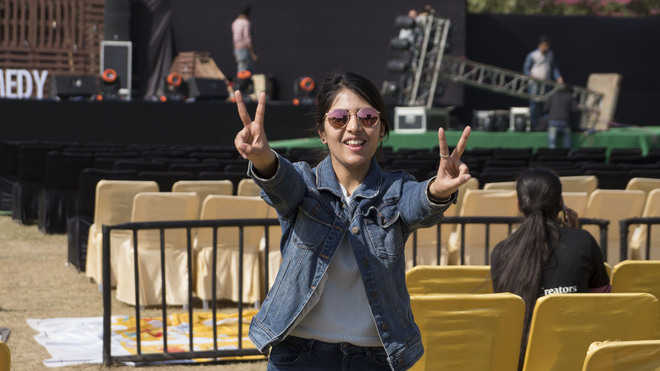 Jasmine Singh
You can call it consumer demand or just a developed ear for music, Tricity is surely ready for music festivals. So, those who are not going to the Sunburn, NH 7, Panasonic, needn't feel left out, as you can hear the sound of music in this region as well.
From Lager n Barrel Festival to Crossblade, Kasauli Rhythm and Blues, to the classical musical festivals and not to forget the solo gigs by independent artistes, music festivals are certainly a place where Chandigarhians want to be. But, are they willing to pay for it? For they are more than willing to do so for food.
Chandigarh is ready
Mayuri Gupta, co-founder, EYP Creations Pvt Ltd, nods in approval. The young girl has seen people from the tricity and around spending for music festivals. "See, it is about a wholesome experience, which can be had through of course spending some money. This is precisely the reason why we have seen an increase in the turnout of people at all the festivals that we organised."
Punjabi flavour
But at the same time, Mayuri wouldn't deny that it is Punjabi music that catches the fancy of people. "For instance at Crossblade, we get a battery of artistes, who offer a hi-end musical experience to the people here. In fact, in this year we have tied up with Snapchat Global to give us special filters for the festival, and we would soon be taking the property to five states and also abroad."
Dhol vs Mandolin
With Punjabi music being a hit globally, any music festival with big Punjabi names is an out and out seller. Even Bollywood's popular playback singer Arijit Singh couldn't pull crowds for his live concert in 2017.
"On one side organise a music festival with Independent artistes playing blues, jazz or Indi-music and one side, get the hardcore Punjabi singers, I can bet that the Punjabi music festival will outnumber anything," adds Dilbag Singh, businessman.
Karan Wahi from Wahi Ventures, a frequent travellor sees music festival like Crossblade as a big hit with people. "We offer space for the festival, and each year I have only seen the crowd grow. Punjabi singers like a Diljit Dosanjh, Gippy Grewal, Parmish Verma or Sharry Mann number and others are great crowd pullers," he adds.
Sa Re Ga Ma Pa
The same stands true for classical musical festivals and the sangeet samarohs, the turnout at these festivals even though they are not ticketed is countable. Does this mean, city folks can eat any kind of food but not open to any kind of music?
Neeraj Dutt, a sitar player from Moga does not find the classical music festival scene in Chandigarh very encouraging. "Only a special section of people enjoy classical music, most of them like oye, hoye!".