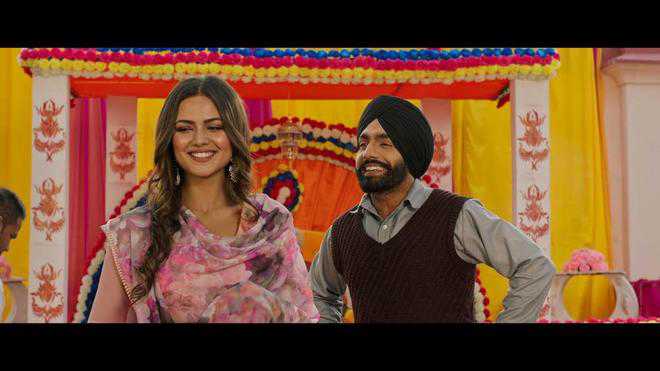 Manpriya Singh
Back in 2016, who would've thought that the story of a college student from a landlord family in love with a girl (whom he later elopes with) would merit a sequel. The audience loved Nikka Zaildar in the garb of Ammy Virk, shouted 'once more' and a year later Nikka Zaildar 2 came into being. He was no superhero, so there wasn't going to be a third time right? That's not how it happens in Punjabi cinema. A couple of years later, we are hearing the right kind of noises about not sequels but triquels in Punjabi cinema. Now a franchisee, Nikka Zaildar can proudly take a bow for being the first triquel of Pollywood. Director Simerjit Singh knows the pressure all too well but feels the industry is ready, what with reports of Rupinder Gandhi 3 already doing the rounds. "The industry has given some phenomenal subjects and franchisees. I feel there can very well be triquels to Carry On Jatta, Jatt & Juliet, Sardaarji," he shares, while elaborating on his first, or third actually in the series.
"Nikka Zaildar 3 retains the characteristics of the first two films. While the storyline is completely different but at the heart of it, the film has the same feel," he understands the audience walking into theatres is actually looking for the same feel but a different experience. "So we've retained the essential fun element." The only verdict that he truly believes in is the one that the audience gives every Friday. "Friday is when the fate of a movie gets decided. We can only hope, but you can never know."
Angrej & period subjects
So, is he hinting at the stupendously successful Angrez, a 2015 film that went on to become one of the highest grossers of all time? While Angrez was set during pre-Partition time, several others have followed suit. "If stories like Angrez and Muklawa were set in today's time, they wouldn't be possible at all. Those were the days when if a hero had to hold a girl's hand, it would take two years."
Casting in Pollywood
Take any industry and every project throws in new names, faces and talent, something that Pollywood can't really be accused of. In Punjabi films, what we see are a set of rotated singers-turned-actors and character artistes. Just a few names counted on finger tips are enough to sum up the industry. "Yes, that's true to some extent, but we've tried retaining fifty per cent of original cast and introducing 50 per cent of new talent. If a healthy balance is maintained, that'd good for the fresh talent as well because they grab more eyeballs."
It's only a matter of time, after production house, we have star casting directors as well! The thing about starting late or starting low is that there is a steeper growth to cloak in. What pretty much has been the case with Punjabi entertainment industry, especially the cinema - varied subjects, bigger budgets and more screens. And now, triquels too!
Bollywood on cards?
Like with most belonging to showbiz, he remains tight-lipped about his upcoming Bollywood projects. "Very soon the announcement will be made and then you'll have the details." Okay may be the genre at least? "There are two starting soon; while one is a romance and the other an action-thriller." And the cast? 'They are leading stars of B-town." Any Pollywood names making it to these projects? Further prodding didn't help. We leave it at that.
manpriya@tribunemail.com