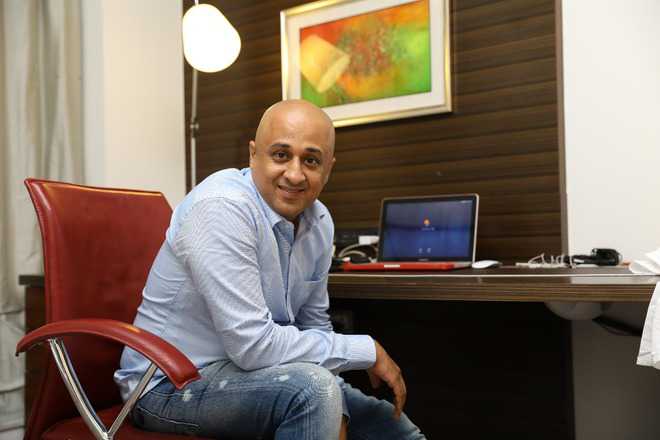 Mona
Writing a book is one thing, but making a film is another story altogether. When Ketan Bhagat sat down do turn a story by his buddy Udai Pawar into a film, it was a road full of challenges!
Upstarts, a story of the Indian start-up world with three friends at the centre of it, is a Netflix original due to stream on October 18. Ketan, yes, you guessed it right, brother of famous Chetan Bhagat, shares and bares it all.
"When writing a book, the world and beyond is your canvas, try to translate it to screen, getting permissions, creating scenes and you are in a soup," laughs the Child/God author, who was in Chandigarh for a talk. On this storyline by IITian Udai Pawar, this duo took about a year to complete the screenplay and dialogues. A story where the good and bad, innovation and exhaustion go by and by, does the friendship among three college graduates hold its ground?
Ketan debuted as an author with Complete/Convenient. The book was a bestseller and was set to be turned into a film, but the project ran into troubled waters. With Upstarts, he gets to see a fresh, new world. "I am thankful to Raja Menon (Airlift), Janani Ravichandran, Ritesh Shah and Jawahar Sharma, who kept patience with me as I wrote long scenes."
As much as he misses the liberty that comes with writing, he's hooked on to films, forever. "Film is certainly more glamorous of the two mediums. You get to be on the sets, meet actors, none the less it's writing a novel that grants complete catharsis." Given an option, he would juggle the two.
His third book with a working title, Child/Currency, speaks of plight of children caught between warring parents seeking a divorce. "The title is tough one but so is the situation of kids getting caught in the cross-fire. My book is a man's perspective when denied access to one's own child." Post this, of course, it a screenplay on his mind.
Writing remains Ketan's passion that he feels fortunate to have pursued it. As for reading, he likes the Gita. "Swami Prabhupada and Swami Chinmayanand and their interpretations of the Gita fascinate me the most," says the man who is juggling a job, writing, motivational lectures and single parenting. He seldom misses his one-hour Gita class every week.
Back to Upstarts, "The biggest learning is since filmmaking is very collaborative project, a lot of people have to come together to make it work." Udai's story, his vision, he also debuts as a director with this film. Priyanshu Painyuli, Chandrachoor Rai and Shadab Kamal play the lead roles. As for himself, it's Joker that he last enjoyed. "I enjoy films with multi-layered characters," says Ketan looking forward to the reception that Upstarts gets!