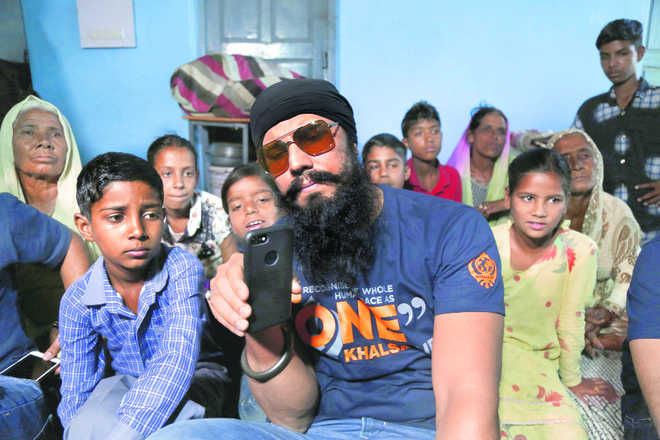 Jasmine Singh
Nowadays, one finds Bollywood actor Randeep Hooda in a Sikh avatar — long, over-grown beard and dastar on his head, which of course is the get-up for the character of his upcoming film on the battle of Saragarhi, where he plays a Havildar Ishar Singh, a Sikh soldier. But for Randeep, this is not just a get-up for a role; this is how he feels strongly about the community.
A kind heart
Visiting border migrant camps at Naushera, interacting with children and the aged, talking about their suffering and ensuring help by Khalsa Aid, the international humanitarian relief organisation that invited Randeep, the actor doesn't deny that a celebrity getting attached to a cause or showing up for one does get mileage. "But I do it for a totally different reason; I feel for these people, which is why I am here," shares the actor, who is also disturbed by the state of refuges in Syria and how people have to bear the brunt of ISIS.
Keep the faith
More than anything else, it his growing faith in Sikhi, which establishes his faith in humanity too: "The mere understanding of the word Sikh got me interested in this faith. And the more I read, the more I realised that this is a very benevolent faith — a very Sufi faith." Randeep recalls her nani (grandmother), who used to go to Beas, "If I am ever in trouble, I would approach a man in a turban. However, I feel the significance of Sikh people and faith in terms of history and geography has been brushed under the carpet after 1984," says the actor, who never shies away from speaking his mind, and expressing his views clearly.
Service to humankind
As for the service being done by the members and volunteers of Khalsa Aid Foundation, Randeep likes to see them as people who are doing what the guru had preached, "Seva, this is what these people are doing, and I totally believe that seva vich hi hai mewa." The volunteers of Khalsa Aid, a relief organisation started by Ravinder Singh, has been serving langar (free kitchen service) to the border migrants of Nowshera sector of J&K. Says Amarpreet Singh, MD, Khalsa Aid India, "It is a morale boosting to have Randeep Hooda with us, serving langar for the migrants displaced by border shelling."
jasmine@tribunemail.com