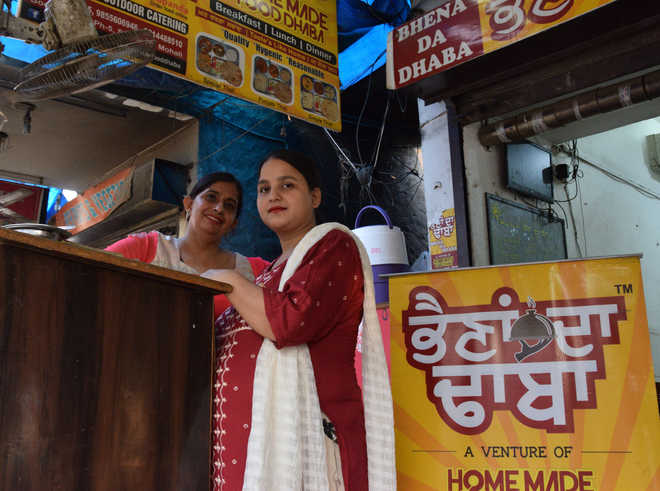 Kuldip Dhiman
What began as a small dinner service for paying guests in Phase V, Mohali, is now a food joint that is also patronised by film units, film stars, and executives from luxury hotels. Aptly named Bhena Da Dhaba, this fully vegetarian outlet is run by two sisters—Paramjit Kaur and Sharanjit Kaur, who are also darani-jethani (sisters-in-law). How did it all begin? How did they manage to establish themselves in a field largely dominated by men?
"Ours is a joint family, and as you know, in joint families, there are so many guests all the time," says Paramjit Kaur, the elder sister. "We used to make good food so quickly that one day my husband suggested that I open a restaurant. I liked the idea and roped in my sister. She was very enthusiastic."
"We had very humble beginnings," informs Sharanjit Kaur. "We started by making rajmah-chawal and kadi-chawal, mainly for PGs, but soon there was demand for more and more. At the time, our main business was green groceries. Initially, there was a couple that used our outlet to sell homemade food for PGs. After a while, they left and we stopped the service, but the PG students kept urging us to start our own service. We gave it a thought and decided to give it a go."
Initially, the sisters started by serving only dinner. "Since we did not have a proper kitchen then, we used to make food at home and serve it here. Then customers began to demand all types of food as they found it home-like. So, we started making two vegetables. The response was so good that now we make about 18 vegetables and dals daily."
Bhena Da Dhaba is a small place, but they have a very distinguished clientele. Film producers and directors stay in big hotels, but they order food here. "For example, yesterday," says Paramjit, "I got a call from a film unit that they wanted to eat kaddun ki sabji. No restaurant or dhaba makes kaddun, but we made it for them. Another unit came from Mumbai. They were looking for homemade Punjabi food. Somebody gave them our number and they called and said that they wanted to eat khichadi and mungi-masar dal. They were surprised when we happily took the order. They said that they just loved the food."
The sisters proudly show film clips of celebrities praising their food and service. Gippy Grewal says, "Very good food from Bhena Da Dhaba of Phase V." B Prakk gives full marks to them saying, "Today we were served food from Bhena Da Dhaba at the shoot. And I must say it was really excellent. Just like home food." Aakanksha Sareen recommends the Dhaba, saying, "Today I had dinner at the shoot. It was from Bhena Da Dhaba. It was really, really delicious." Bhumika Sharma is also mighty impressed, "Their khana is the end." Singer Ninja says, "This is what I call VIP food."
How did they get into catering for film shoots? Replies Sharanjit, "One day, we happened to speak to a movie man, and asked if we could cater for film shoots. He said okay, and we got a chance to serve food for the film Once Upon a Time in Amritsar. They liked it so much that after that we have not looked back. Then the word spread. We make food here at the dhaba and my husband Amarjit Singh Bunty, son Dilpreet Singh, and Sharan's husband Harpreet Singh Sonu take care of catering and shoots."
As I was speaking to the sisters, two distinguished looking gentlemen arrived and ordered kadi-chawal. I learnt later that they were managers of a five-star hotel. I asked them what brought them here to this small dhaba. "We come here because they make simple but delicious food. We come here especially for their kadi-chawal." What is so special about their Kadi-chawal? "We make curd at home from full cream milk. And of course, our raw material for the pakoras is also special. Both sisters say that they have not faced any serious difficulties in running a dhaba except the usual difficulty of workers not turning up at times.
Top News
Modi: Reduction in train mishaps since 2014
Reviews preparedness & pending integration of armed forces
Bhutan shares over 400-km-long border with China