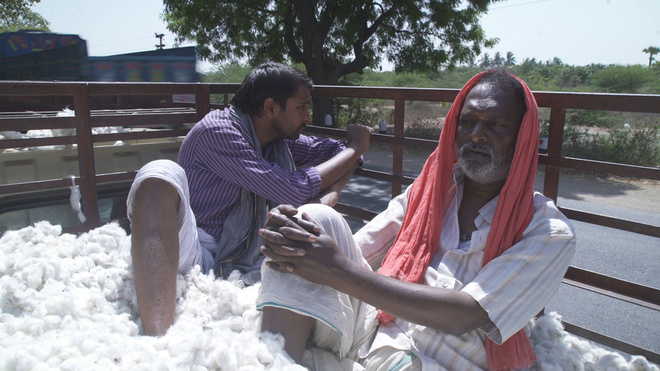 Jasmine Singh
Anshul Sinha, an Indie-filmmaker from Hyderabad, with 19-20 films to his credit, for which he has won 104 awards at various film festivals, wasn't allowed to enter any production house, either in Hyderabad or Mumbai, when he went around looking for producers for his current docu-drama...Mitti—Back To The Roots! "The doors would close, the moment we would say that we've made a film on farmers. I was told that no one would be interested in watching this film," shares Anshul, whose previous project 'Gateway To Heaven' got 11 international nominations and third prize in England.
It began this way
It was during the screening of Gateway To Heaven that Anshul met Dr Ramanjaneyulu GV, executive director of the centre of sustainable agriculture, who liked their project and offered them a chance to work on a film on agrarian crisis in India. Anshul had the lead, but the way to go about it wasn't easy. One, they did not have any funds and two they had to do extensive research for the project. "Our aim was to save every farmer from giving up life and farming. We did not let circumstances bog us down," he adds.
With a crew of four people, instead of an elaborate one of 20-25 people, Anshul started shooting with his crew. He didn't have money to pay the actors, "So, I asked theatre artistes to work for us. No one on this film crew has charged a single penny from us. Before the shoot, I went through an elaborate nine months research, where we learnt farming in real, which helped us write the screenplay. The entire project was made under the guidance of Ramanjaneyulu GV."
Agrarian issues
Mitti- Back To The Roots portrays 25 major issues related to agriculture, due to which lakhs of farmers commit suicide in India. "We have also given a solution to every issue that we have raised in this film."
Since they had no money to shoot the film, Anshul had to take to crowd-funding, which started in December 2016 and ended in February 2007. He could only start the shoot on February 11, 2007 at Enabavi, India's first organic village, situated in Jangaon, 100 kms from Hyderabad.
The 90-minute film is complete and now Anshul is looking for distributors, so that he can take his film across India. He plans to come to Punjab with it as well. "We have dealt with the agrarian issues across India; Mitti does not concentrate on just one district. I want to dub it in four different languages so that the issue reaches the national level. I also plan to screen it at festivals, so that it gets media exposure. As of now, I am looking for distribution support though," he shares.