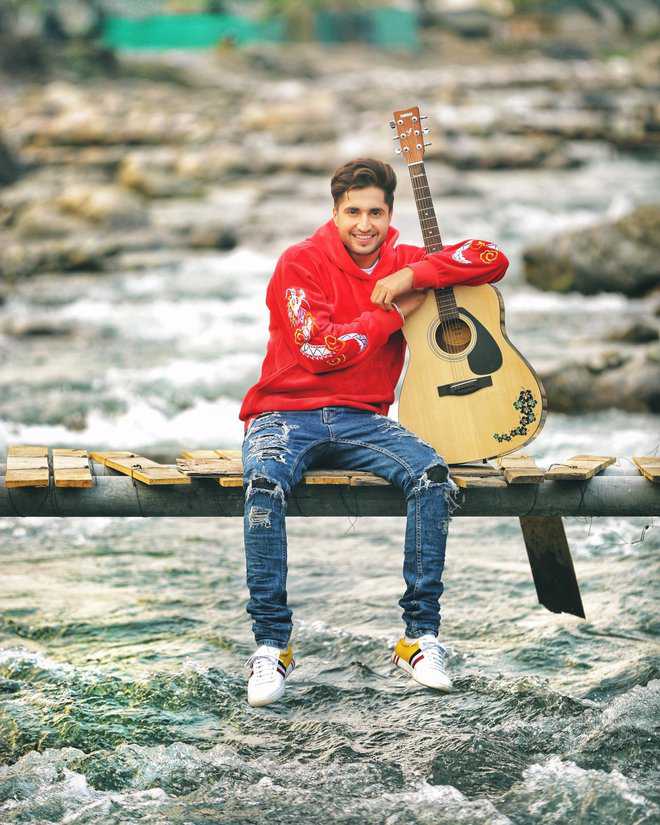 Jasmine Singh
Either they are criticised for spreading violence and gang wars or sometimes for asking too much money for live shows! To many of us, the current breed of Punjabi singers are having the best time of their lives, which we often chose to believe has just come their way, fallen into their laps.
What we tend to undermine or not even take a look at is the fact that many have worked their way up with dedication; they have sat outside the office of music directors, waited for hours till someone took notice of them, shelled out every single penny their parents had saved. Here they are, the singers singing out aloud, enjoying the fame, name and money...all because they earned it!
Good journey
Jassie Gill, singer-actor
Jasdeep Singh Gill from village Jandali near Khanna had to wait for three years before he made his debut. Those days: I used to wash cars in Australia. And then I came back, struggled to cut my first album...for which I paid from own pocket. Credit goes to: My parents and everyone who supported me in this long journey.
Voice over
Sunanda Sharma
Her first track, Patake, garnered 78 million views on YouTube. One of the youngest Punjabi female singers, she is from Fategarh Churiyan, Gurdaspur district. She is known for her personal style too. Days of struggle: These started when I was in school and college. I used to love taking part in competitions. I owe it to: God, my family and Pinky Dhaliawal for guiding me through.
Turbanator
Ammy Virk, singer-actor
Amninderpal Singh Virk, the dashing turbanator from Nabha, is a known face in the singing as well as acting circuit. Family wise: I come from a simple, middle-class family with an agricultural background. Lessons learnt: I kept doing what I like to do; learning from own mistakes.
Two for joy
Desi Crew
Goldy and Satpal, two music directors from Khanna, Punjab, have been friends since 2003 and then one day they started out as Desi Crew in 2013. Till date: The duo has made over 1,000 songs. We owe it to: Artistes like Parmish Verma, Dilpreet Dhillon, Kaur B, Jassie Gill
Rising up
Bunty Bains, lyricist-music producer
Music producer, presenter and lyricist Parminder Singh aka Bunty Bains is the man behind the success stories of other artistes like Kaur B, Desi Crew and more. Those days: I have worked as a guard at an apparel store; it might sound filmy, but I have slept without eating many a times. I have worked for Rs 1,500 a month. Credit goes to: My family and my fans.
Trained hand
Arvindr Khaira, video-director
This video director from Nabha made everyone sit up and notice him after Hardy Sandhu's song Soch. The high point: Soch ; we introduced the best of equipment and it changed the way Punjabi videos were being made.
Humble & patient
Parmish Verma, actor-singer
The style style icon of Punjabi entertainment industry is a popular video director, actor and singer. Those days: I moved to Australia in 2007; I struggled for good three years, working at restaurants, washing dishes. Success mantra: Working hard is important, but staying humble and patient is more important. As of now: I feel I am far away from my goal.
Hit formula
Jaani, lyricist
One of the few lyricists from Gidderbaha, Punjab, Jaani has written all hit songs sung by many singers. Present struggle: The real struggle is now when I have to write songs for various singers like Hardy Sandhu, Diljit Dosanjh, Gippy Grewal, Sukh E, and each song has to be different. Do you Know: This year, seven-eight of my Punjabi songs are getting remixed in Bollywood.
Young gun
Guru Randhawa, singer-composer
Gursharanjot Singh Randhawa, writer, composer and singer from Gurdaspur is today the highest rated singer of the Punjabi music industry. Guru today leads the bandwagon of young singers. Those days: In my village we had only heard about Tata Sumo or Maruti in 2002. Today, owing a Mercedes feels like a proud moment.
jasmine@tribunemail.com
Top News
Was hearing a public interest matter related to the plight o...
'Kyiv is equally critical of any country in the world which ...
Central Asian NSAs speak on drug trafficking rampant in the ...
The move comes ahead of Prime Minister Narendra Modi's visit...
Slain Youth Akali Dal leader Vicky Middukhera's brother Ajay...