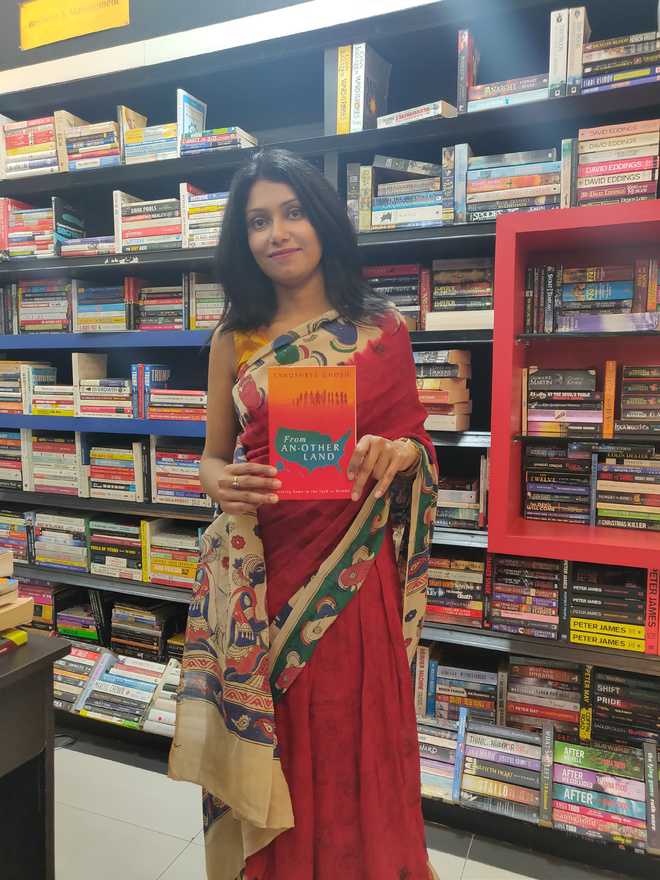 Manpriya Singh
Fourteen years ago Tanushree Ghosh went to the US in search of all the things that pretty much make anyone an immigrant. Primarily the pursuit of freedom, independence and greener pastures. "All the things that I was after, I achieved all of them," shares the author as she takes on a social narration in her book From An-Other Land—Making Home in the Land of Dreams.
Be it getting to combine arts with chemistry in the Cornell University (which she couldn't back home in Calcutta University) or be it the freedom to be whatever she wanted to be. Ironically, while in the land of the maximum she found a hope for the developing nations of the world.
"We crib about corruption, but in fact corruption exists there as well, in a comparatively organised manner." She adds, "Leading a life of integrity and awareness is a choice for people, the nation."
The book brings together characters and incidents that happened for real and mirrors the reality. "All the characters come together in the book during the first four pages and from then on, they may and may not intersect." The book, as the synopsis says, "Is a reality check and an emotional guide for anyone who wants to understand modern day immigration to USA. And what is USA today, especially for Indians."
Having already written seven anthologies with other authors and several other writing stints, including columns, the book actually started taking shape around 2012 when she was pregnant as, "that allowed me some time off. So this is my debut literary work as a solo author." In between the characters moving in and out of the chapters, there's no dodging several interconnected issues like racism, discrimination and the scenario especially post the 2016 US elections. "That's all the more shocking because it is a nation inherently built by and of immigrants," opines the author who admits to having addressed some of such issues.
Coming up is a book based on two women wherein the protagonist has been raised in a turbulent situation in India, while her mother is both her inspiration and her nemesis. "It is based in India and the US both and is modelled on the lines of The God of Small Things and The Kite Runner," she signs off.
The book was released by Roopinder Singh, Senior Associate Editor of The Tribune on Thursday.
manpriya@tribunemail.com
Top News
Was hearing a public interest matter related to the plight o...
'Kyiv is equally critical of any country in the world which ...
Central Asian NSAs speak on drug trafficking rampant in the ...
The move comes ahead of Prime Minister Narendra Modi's visit...
Slain Youth Akali Dal leader Vicky Middukhera's brother Ajay...