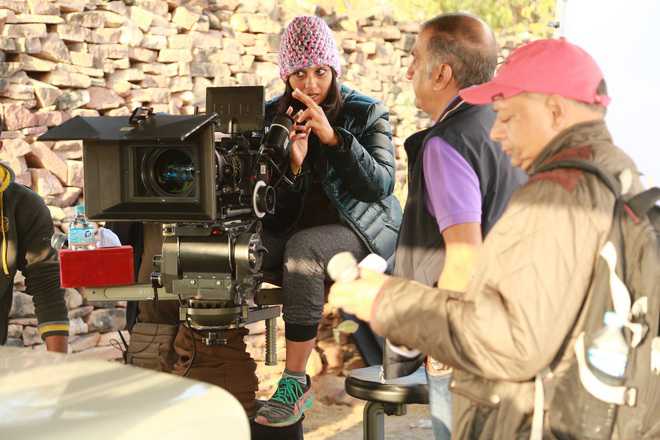 Gurnaaz Kaur
We tell ourselves stories in order to live." Stories are deep insights into humanity and all its complexities. Films are a great medium of storytelling. Of all that we see on the screen—the actors, characters and plots—there are those working behind the scenes to make the story a success. While we often meet the faces on camera, today we have a brush with the stars behind it, the few women stars precisely. It seems the ongoing struggle for gender equality has its ripple effect even in the Punjabi film industry. But there are women who are making a mark in this otherwise male-dominated arena.
Playing the boss
Mahi Aulakh today has an independent production house called Big Height Motion Pictures and last year we saw Gurjind Mann-starrer Punjab Singh under this banner. If you thought producing a movie was all about investing money in it, this should shed some light on reality. "From arranging sets, cameras and other equipments, deciding a location to finalising the artistes, costume designer, everything is done by the executive producer (EP). From the first shot till the post-production she is always a part of the whole process as the right hand of the producer. I've spent years in Bollywood and TV as (EP) or as an assistant to EP. My journey in the industry began with Jodha Akbar. It was when I was working for a TV show in 2011 when Vivek Ohri asked me to be an EP for Yaar Anmulle. Then I went on to do Mukhtiar Chadha with him. Ever since I've started my own production house, I've been doing it all myself. Punjabi industry isn't too familiar with the idea of having women in the crew but thankfully things are changing," shares Mahi.
One-woman army
There is something endearing about Anjali Khurana's story. She is a woman of words and has created, promoted, distributed and digitised content for web, mobile, TV and films. It is her craving to make sensitive and sensible cinema that landed her in Mohali from Mumbai. She has written the story, screenplay and dialogues of upcoming film Munda Faridkotia and has two untitled projects in the pipeline. "While Punjabi cinema is enterprising and witnessing immeasurable growth, it comes with its set of surprises much like any new industry finding its feet in the system. Most producers I have come across are new to glamour and even women calling the shots. From where I come, there's a protocol for having women workforce in any given set up, which is missing in Punjabi cinema, but I'm hoping it will happen soon with more and more women turning towards Punjabi cinema for a serious career consideration. Another challenge is taking women writers seriously." She adds, "Blame it on my contemporary way of dressing, curly hair or use of English language in my routine communication that most filmmakers prefer considering scripts of writers who look like they have just landed from a far flung village to sell their script. Having said that, I have also met those who want to take Pollywood on par with Bollywood. I love this medium and I want to be the change I want to see."
Aye aye, captain!
We now step into the director's zone. Director as we know is the captain of the ship. Nidhi Sharma donned the hat of a director in 2012 for Pooja Kiven Aa. She loves the craft and will soon be making a woman-oriented film. The gap she says is because, "There are hardly women directors in Punjabi film industry. In fact, when on the first day I reached the sets, the crew couldn't believe I was directing the film. Back then it made me doubt my decision but I am glad I did what I did. I've been an EP for many movies after that and I feel the time has come when I can take up direction again and this time I'll make sure to appoint an all-women crew. The onus of bringing the change lies on us and I don't want anyone to feel the way I felt when I began," quips Nidhi Sharma.
From kids to costumes
For all the style and fashion you see in films, there are costume designers working months and months to get the look right. Hardeep Bindra is one of them who, with her husband, have been doing the job for seven years now. "Our recent most was High End Yaariyaan. Be it the main cast or the extras, it's our responsibility to dress everyone according to the theme of the film. A lot of research goes into it. For instance, if it's a period film, we have to make sure the fabric, the clothing, footwear, hair, makeup, jewellery, everything is of that era. Since this job requires a lot of travelling, I pay attention to mostly the backend work. We may say we are very advanced, but the mindsets still need to change. Even today it is expected from a woman to prioritise family and household over career and maybe this thought is the reason why there are very few women in our profession," says Hardeep. After all, as the maxim goes, a woman's work is never done and these women are not only proving their creativity and grit but more importantly working to pave the way for all the women who aspire to lend their technical knowhow to make a story worth telling.
---
Nailing the lens like a pro
Sunita Radia started her career as a camera assistant with the movie Devdas and went on to become an associate cinematographer for movies such as Munnabhai MBBS, Rand De Basanti and many more. Today she is a known name among cinematographers and among many Hindi flicks she has Punjabi film Saadey CM Saab to her credit. Being among the very few women in her field, she says, has never bothered her. "I had a great time working in Punjab. I hope to do more Punjabi projects. I agree it has been a difficult journey but also a very unbiased one in a way. When your work is showcased among 20 million people and no one sees from gender point of view, it's an unmatched feeling. After Baadshaho, critics glorified my work and said I shot Rajasthan like never before. But till date I walk the extra mile to prove my work but I just love what I do so I do not worry about rejections. People have to understand that women are as strong a force as men, or maybe even more I feel."
Top News
Hundreds are still believed to be trapped under rubble, and ...
Chances of Parliament taking up a discussion on Motion of Th...
A Muslim man alleged he was assaulted and abused in the name...
Frank Hoogerbeets describes himself one having 'utmost respe...
Will be produced before the competent court in Mohali on Tue...