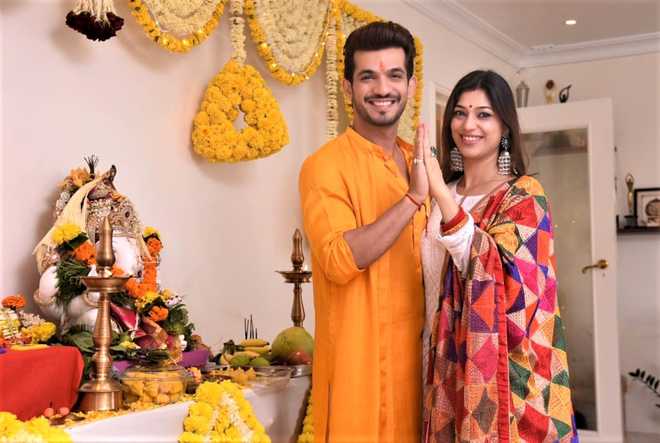 Sharing a strong bond
Aniruddh Dave
This is my fourth Karwa Chauth. My wife Shubhi kept Karwa Chauth once even before we got married. She is very particular about the rituals and festivals. She completes me in every sense of the word. I am so lucky to have her in my life. I am looking forward for the festival that celebrates the strong between a wife and husband.
Cooking up love
Vijayendra Kumeria
I have asked for an early pack-up on Karwa Chauth. I'll get up early and when my wife Preeti will have sargi, I'll accompany her for that. Then, I will go for my shoot. We'll do the rituals in the evening and I have decided to cook a special dinner for her this time. I always ask Preeti not to fast and just do the puja, but she is very particular about all this.
Keeping up with tradition
Rohitashv Gour
Like we celebrate Father's Day, Mother's Day, Karwa Chauth also has its significance where the wife sees her husband through the moon's eyes, through the chalni as described in our holy books. We both get dressed and go to the terrace and in the presence of moon we do the rituals. My wife, Rekha Gour, is my strength and I want to be with her on this special day.
Spending time together
Arjun Bijlani
I have been married for many years and every year my wife keeps Karwa Chauth for my long and healthy life. I ensure that I am home on time and spend time with her. She's responsible for bringing stability in my life. I like traditional celebrations.
First timers
Ssharad Malhotra
This year is my first Karwa Chauth, so I am very excited. We are going to Kolkata to celebrate it with my family. My better half, Ripci, is also very excited. It's indeed a big celebration for us as a couple. I am sure Ripci must be planning a lot for the D-day.