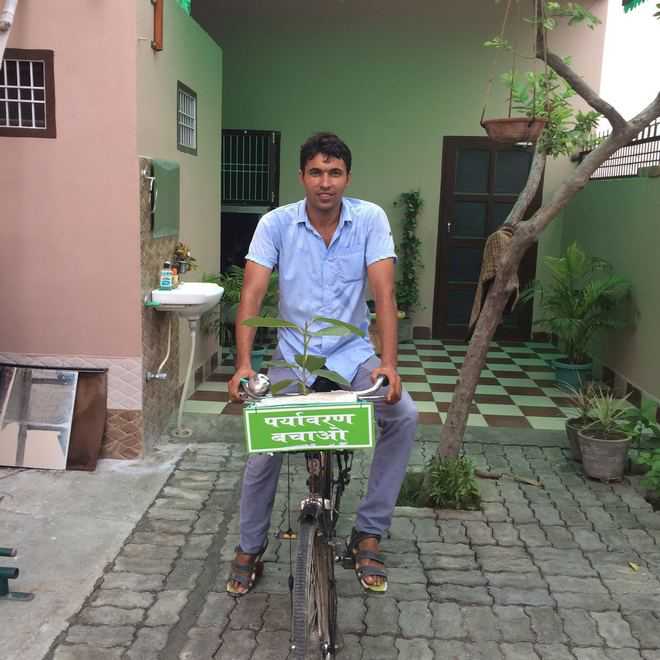 Jasmine Singh
Each of us, at one point in life feels the need to do something for others, for the community. But many of us dump the entire blame on the present circumstances and wash our hands of this need. And then there are others who do what they can, with what they have and in whatever capacity they are in. On World Social Work day, we meet such people who don't let situations overtake their will to help others, as much as they can, with the challenges of course.
Come one, come all
Social work or being a part of a NGO were a thing of each to his own, however, lately many people have started viewing it with a slight bit of suspicion. "And this makes social work almost a task," shares Vivek Trivedi, a government employee who has been associated with national mission on urban poverty alleviation and livelihood for more than 10 years now.
A government employee who has to juggle through files, attend meetings and report on time to work, balancing act is the trick. "Weekends are dedicated for this, invariably every Saturday and Sunday is kept for this purpose, meeting orphans, physically disabled people, discussing job opportunities with them, linking them to the work network. I don't think I am doing something extra, this is like doing something my heart lies in," adds Vivek who has been associated with UNEP, ICLEI, UNESCO, and other international organisations only because he wants to do something for others around him. While Vivek has now got the knack of keeping his office and social work separate, he still faces many problems on various levels.
Spare a thought
Devender Sura, who is attached to Chandigarh Police security of the home secretary, calls himself a paryavan mitr and has been planting trees in Chandigarh, Punjab, Haryana and North Delhi from his own salary. He keeps a share from his salary for the environment. He buys plants, rents a vehicle and then goes out planting trees. "We all want to live in nice, spacious houses, but do we ever think about where birds or animals will live if there is a concrete jungle and no trees around," shares Devender, who has also opened a nursery in Haryana where he gives away plants free of cost.
Helping others sustain, offering others a decent environment to grow and live not only requires intent, but also a heart to face hardships, and challenges and still keep moving. Amrit Chandna, a homemaker from Panchkula quit her teaching job due to family circumstances, but then the educationist in her wanted to do something for the kids, the ones who do not get an opportunity to study. Today, she is the in-charge of a project where she teaches slum kids from age1-4 at DAV public school, Sector-8, Panchkula. "This is a charitable project initiated by Dr Anil Pathak where Jagriti children (underprivileged children) are made to go through the syllabus of Harayan board," shares the soft-spoken lady, who rarely takes an off from her schedule, "I try and fit everything else; family, friends, chores according to this schedule. It gives me immense satisfaction to teach these kids."
Future perfect
These are people who think about future and the present of others, people who believe if their single act can be of some help to anyone, it could make their present a blissful one!
Maimuna Yasmeen, a government employee with MC Chandigarh, is always at the beck and call of the women who need her. Education according to Yasmeen is the only tool that can get liberation for women. "I meet women who are underprivileged, I talk to them about completing at least their class tenth; I convince them to understand and avail the various schemes started by government. I feel if I am empowered and if I can empower another woman, I would feel great," shares Yasmeen, who is working on social mobilisation and institutional development for women.
Zirakpur-based Vijay Kumar an ex-Punjab government employee, decided to do something for the patients coming to PGI after his mother fell ill. Today, Vijay Kumar assists patients who get stuck with treatment. "I started doing this for my peace of mind, though I would someday want to offer some kind of monetary assistance, but whenever money comes in social work it only creates more problems."
jasmine@tribunemail.com
Top News
Suicide bomber blows himself up in mosque packed with worshi...
AIADMK leads demand for passage of Women's Reservation Bill ...
The bench takes note of the submissions by lawyer ML Sharma ...
VB sleuths started assessment of Soni's farmhouse at D R Enc...
Hindenburg stands by its last week's report that said its in...