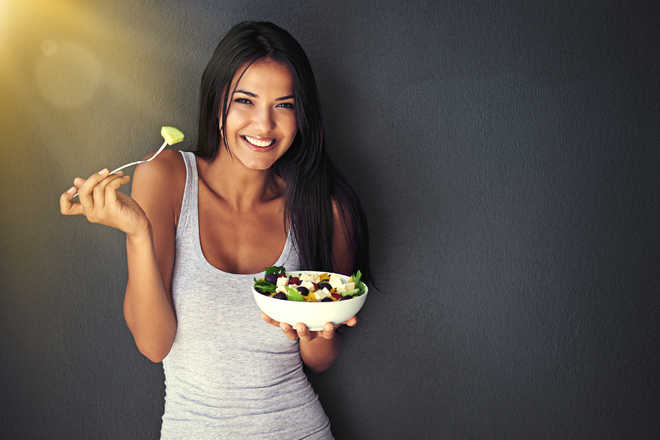 vinaymishra188@gmail.com
Mona
Mesonutrients to mindfulness, wellness sure scores high in 2019. The new-age has brought its own challenges. The resultant stress, which interferes with personal and professional lives, generates the need to further strengthen the wellness industry.
The pro-active Gen-Next is leaving no stone unturned and ensuring that healthy workout, good sleep and nutritious meals are the order of the day. From banning the blue light (phones, laptops, tablets) from bedrooms to keeping with the circadian rhythm, here's what 2019 will see trend big time.
#1Be mindful
One bane of modern life is 24X7 distractions. With the world at our palm, we are doing several things simultaneously. No wonder our meals, sleep, work and relationships are slipping away.
Now, mindfulness is one tool to let you be in the moment and give your all to the task at hand. Couple it with regular meditation, suggests wellness coach Amandeep. "Just as brushing and bathing are irrevocable part of our daily routine, meditation should be for our internal cleansing. This will help wash-off the myriad impressions we are bombarded with each moment —killings, natural disasters, accidents, rapes," he says.
# 2 Mesonutrients rule
If lately one ensured a complete balance of macro (carbohydrates, lipids, proteins) and micro (vitamins, minerals) nutrients, 2019 will have many people going a step ahead and ensuring 'mesonutrients' are an essential part of their diet. "Active compounds or antioxidants inside food, which are very beneficial for us, are called mesonutrients," says nutritionist Pallavi Jassal.
So whether it is curcumin, found in turmeric, with anti-inflammatory and anti-ageing properties, or saffronal, known for its antidepressant, libido-boosting qualities in saffron – meso is gonna be a big hit!
Not only are the health-conscious going for specific nutrition, where is it sourced from is big too! As is A2 milk — sourced from desi cows that offers multiple health benefits over A1 milk, which comes from cows like jersey. Compared to A1 that's considered slow poison, A2 is hailed as miracle milk. Meeting the rising demand, Vita launched special A 2 milk lately!
# 3 Train well
Weight-watchers looking for quick results have realised that HIIT is not something that can be sustained. Comes in Low Intensity Internal Training. Not the LIIT that knocks one off at drink binges; this LIIT is sustainable and ensures proper recovery time. "Slowly, but surely, fitness freaks have realised that while transformations can be overnight, they are really tough to maintain," shares personal trainer Kabir Grewal. While HIIT is sprinting, LIIT is walking — both give similar results, only the latter is time-consuming, but something that you can do over a long period of time.
# 4 Ancient therapies
While wellness clubs in the western world are fast springing up, the demand is being felt in this part of the world too. "The young IT clientele wants to address the stress, anxiety issues before they are hit hard. They are opting for ancient therapies like Ayurveda," points out beauty and wellness consultant Richa Agarwal. Catching onto the global trend, soon you can book a semi-precious stones' pedicure at any of the Cleopatra salons!
# 5 Fitness furniture
If fitness gizmos ruled 2018 and would continue to rein this year too; fitness furniture is growing big too. Stylish furniture that doubles up as workout equipment is the new thing that's an offshoot of workouts moving from gyms to home and office spaces. A set of stools that you can use as dumbbells – multi-functional furniture is here to stay.
So, are you ready for the fitness ride?
mona@tribunemail.com
Top Stories
Cities