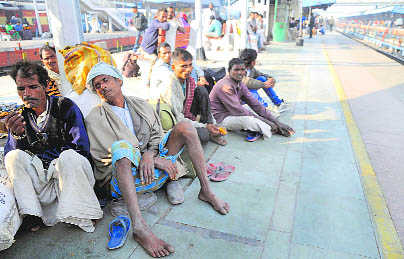 singhking99@yahoo.com
Ruchika M Khanna
Tribune News Service
Ludhiana, December 3
Nearly a month since the government's demonetisation drive, the city's Industrial Estate, Industrial Focal Point and several other areas are witnessing signs of cash stress not seen by most industrialists before.
Industrial production in bicycle and bicycle parts, hosiery, hand tools and the auto component industry is down by 50-70 per cent. Consequently, labour is being laid off in large numbers.
Migrant labourers pack their bags, courtesy demonetisation
Amritsar:
Construction workers, painters out of job
Move on currency hits rural economy hard, labour denied payments
The workers are either thronging labour mandis in search of minor contractual jobs or returning home. The labour rush at the railway station and the bus halt near Sangeet Cinema in the Industrial Area is proof.
On Friday, leading bicycle manufacturer Seth Industrial Corporation laid off 700 daily-wagers. "The situation is grim. I have cut down production by 70 per cent. There are no buyers and no backflow of money from retail sales. My monthly salary bill is Rs 1 crore. "The government allows me to withdraw only Rs 50,000 a week, which translates into Rs 2 lakh a month. It is a hassle to even get this amount. The labourers won't accept old currency notes. So, we have no option but to relieve the labour employed on a temporary basis," says KK Seth, owner of the corporation and chairman, Federation of Industrial and Commercial Organisations.
SC Ralhan, a prominent hand-tool manufacturer, says they can't force the labourers to open bank accounts. "Sixty per cent of the workforce is illiterate and does not want to open accounts. Since no money is available and labour unrest is simmering, many units are relieving the daily-wagers. For those retained to keep the production going, we are making arrangements for ration on credit," he says. Estimates show that the bicycle industry and the steel industry have cut down production by 70%, the hosiery and textile by almost 60% and the hand tools and auto parts by 40%. With salaries to be paid on the seventh, the industry is quickly relieving temporary employees.
Known for its resilience — be it post the economic meltdown of 2008 or the flight of industry to tax-exempt hill states — the cash crunch may either see a new business model taking shape, with all transactions accounted for, or it may simply herald the demise of thousands of medium, small and mini enterprises (MSMEs).
Badish Jindal, president of the Federation of Punjab Small Industries Association, says small industries with a turnover of less than Rs 10 lakh were working through cash transactions and have now been forced to shut shop. Narinder Miglani, who is in hosiery business, says 70-80% of production has been cut in 13,000 hosiery units as there are no fresh orders.