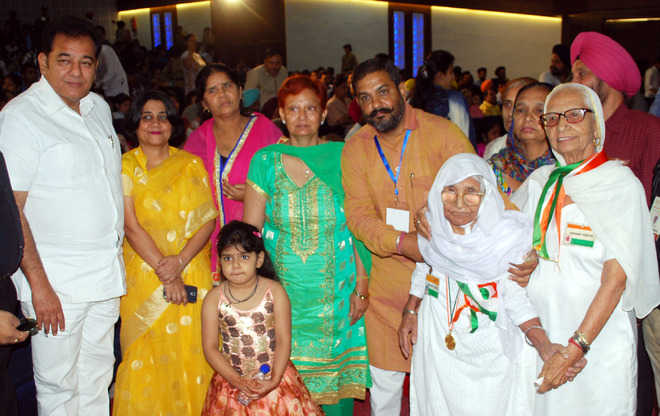 Naina Mishra
Ludhiana, May 6
Social activist Sampat Lal, who is founder of Uttar Pradesh-based women's organisation — Gulabi Gang — has urged women to act independently and wield more power. She was in the city on Sunday to attend commemoration ceremony of Shaheed Sukhdev at Guru Nanak Bhawan.
"I feel honoured to be a part of martyr's celebrations and for being among brave and courageous people of Punjab," said Sampat Pal.
"Today, I am standing on the land that gave birth to the biggest revolutionaries of the Independence struggle. When India was battling for its freedom, these little yet brave souls dared to die for their country. Now is our time to give back the respect they deserve. They should be given national recognition," she added.
"Some traitors existed at that time of the era and they exist even today. It's high time we should collectively boycott such people," she said.
As many as four lakh women stand under the banner of Gulabi Gang in Uttar Pradesh. "The need to form Gulabi Gang was felt in 2006 with increasing crimes against women. Bundelkhand in Uttar Pradesh is a backward area from where the gang originated. We give cane and stick training to women, who are part of our organisation," said Sampat.
"Women of our country should take up arms against illicit acts of any form whether it is domestic violence or molestation. They should take a cue from Gulabi Gang and other women organisations. The government is not going to help us. Help yourself and your family," she added.
"Rapes are nothing new in our country. They have become synonym of loot, theft, and murders. Narendra Modi talks of 'Mann Ki Baat', but what is there is in conscience is best known to him. Each and every leader is taking turns and playing with common man's emotions," said Sampat while lashing out at Prime Minister Narendra Modi.