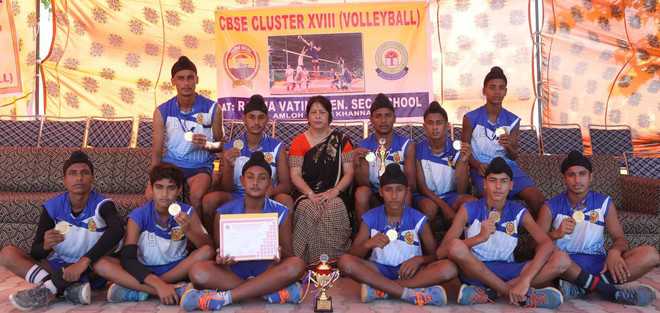 Ludhiana: The 18th Central Borad of Secondary Education (CBSE) cluster-level volleyball competition, held from October 4 to 7, concluded with a grand success. Baba Deep Singh Public School, Tarantarn, in the U-17 category, and Dhilwan Internaional Public School, Dhilwan, in the U-19 category, grabbed the victory title and bagged gold medals. The first runner-ups werer Mata Gujri Public School, Gurdaspur, in the U-17 category, and Cambridge International School, Jalandhar, in the U-19 category. Guru Harkrishan Public School, Amritsar, and Marigold Public School, Gurdaspur, in the U-17 category; and Saint Kabir Public School, Gurdaspur, and Shri Guru Harkrishan School, Amritsar, in the U-19 category, were declared second runner-ups. All participants were honoured with certificates. Maninder Singh of Baba Deep Singh Public School, Tarantarn, and Devandeep Singh of Cambridge International School, Jalandhar, grabbed "best players" award.
Students bring laurles
Tagore Public School won multiple positions in various competitions. At a science exhibition organised at Blossom Convent School, Jagraon, under the Hubs of Learing, the model prepared by Arshdeep Singh and Jaskaran Singh of Class XI on "renewable sources of learning won third prize. A total of 22 models were presented by various schools at the competition. In a declamation competition organised by Bharat Vikas Parishad on "Guru ki samay ko den", Komal Bedi of Class VIII got a consolation prize. Principal Manju Kansal congratulated students.
World Animal Day celebrated
In order to sensitise students to the importance of fauna, World Animal Day was celebrated at Spring Dale Public School. Students of kindergarten section celebrated the day with great zeal, fun and excitement. Tiny tots were dressed as wild animals and participated in an interactive programme. They raised slogans "Love Animals", "Be Kind to Animals", "''Protect Nature''s Beauty", "Animals are Friend Not Food" and "Live and Let Live".
In-house picnic organised
Darshan Academy organised an in-house picnic for students of nursery to Class IV. As many as 370 students from the school and 20 students from other playway schools participated. A big water pool was arranged to make students learn the concept of floating and sinking. A number of rides and bouncing houses were set up for students. Adventurous activities for students of Class III and IV were also arranged.
Green Land student brings laurels
Mehak, Class XII student at Green Land Convent School, New Subhash Nagar, has brought honour to the institution by winning bronze at the state-level basketball tournament, organised by the Punjab School education Board, held at Guru Nanak Stadium. Principal Jyoti Sachdev Pujara congratulated Mehak for her achievement.
Grandparents' day celebrations
Grandparents' day was celebrated at Shri Ram Universal School, Sarabha Nagar. All grandparents were welcomed with a 'Happy Grandparent's Day' badge by principal Shilpi Gill. The cheer on the faces of grandparents was proof that their hearts were elated to visit the school of their grandchildren. A cultural extravaganza comprising poetry recitation, songs, story-telling and dance by grandparents, students and teachers set the ball rolling for the day. Grandparents enjoyed the day with their grandchildren and expressed gratitude for organising such an event. Principal gave the vote of thanks and laid stress on the importance of grandparents in a kid's life.
Capacity-building programme held
To upgrading professional skills of its teachers, a two-day capacity-building program on inclusive education was administered for teachers at BVM, Kitchlu Nagar. Resource persons for the day were Sandeep Sharma, behavioral consultant and psychologist, and Simran Dhillon, master trainer of DAV Schools. They highlighted and shared various aspects of teaching allowing children with disabilities to learn and thrive with normal students. The capacity-building programme was organised with the aim to attain equality, justice and quality education for the marginalised group of students with innovative solutions and improved support therapy to enable them to embrace new learning opportunities. TNS