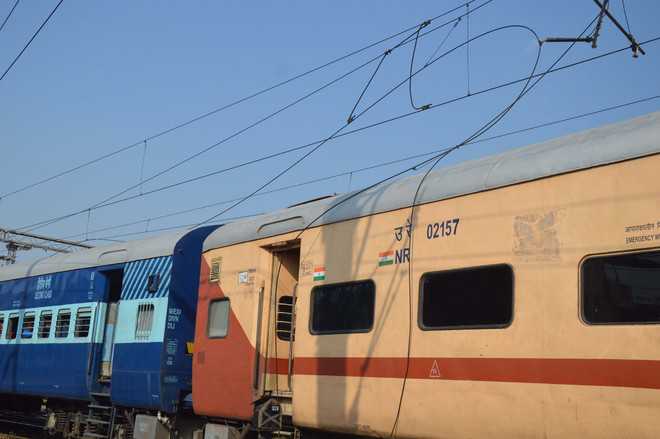 Tribune News Service
Ludhiana, November 8
A major tragedy was averted after a 25000-volt overhead cable snapped and fell on the Delhi-Pathankot Express when it reached near Lakkar Bridge this afternoon. According to a railway official, no one was injured as the power got shut off when the cable snapped.
Around two minutes after the train left Ludhiana Railway Station for Pathankot, passengers heard a loud sound when it reached near the Lakkar Bridge. Passengers got off coaches as the train stopped soon after. The train had remained halted there for more than an hour and it reached Jalandhar late.
One of the passengers travelling in coach number D2 said: "We heard a loud sound when the cable snapped and fell on the coaches. We thought that the train had derailed. If there was current in the broken cable, there could have been a major tragedy. An inquiry must be conducted into the matter. The train stopped twice after it departed from Delhi due to some fault or sparking issue," he said.
Meanwhile, the railway staff reached the spot and repaired the damaged cable.
Director of Ludhiana Railway Station Tarun Kumar said: "It is yet not clear how the cable snapped. However, an inquiry will be conducted in this regard. The train services got affected for a short time. The power got shut off itself when 25000 volt cable snapped."
According to information, Malwa Express coming from Vaishno Devi Katra had remained halted on the outskirts for around an hour. Besides, Dadar Express reached here late by 45 minutes at Ludhiana railway station.