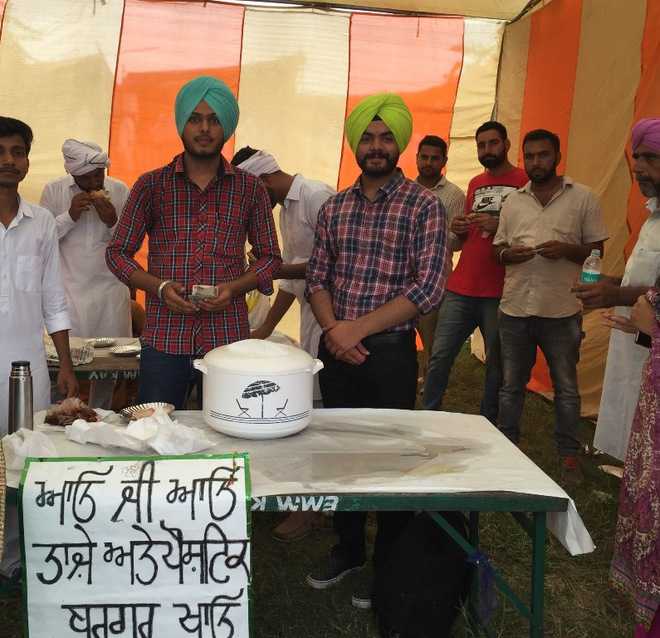 Manav Mander
Tribune News Service
Ludhiana, September 23
Gone are the days when countryside people were not fond of fast food. Stalls put up by the students of department of Nutrition and Dietetics during the Kissan Mela is the testimony to the fact.
The students have prepared cakes, muffins and healthy burgers and are selling the same during the Mela. This kind of stall is put up by the students every year during the Mela.
Tanusha Nagpal, a third year student of the Nutrition & Dietetics Department, said dry cakes are a hit among the rural population. "We have three kinds of cakes. One are with egg, one without egg and one has egg in very less quality. Caramel, nuts, dates and walnut and honey and almond are the various flavours of these cakes,"she said.
Adding further, Gurjinder Kaur from the same class, said before selling they tell the customers about the egg potion. "Some are vegetarian and some do not eat due to some religious customs. So whenever any customers comes, we tell them about the egg quantity being used," she said.
Sukhjinder Kaur, another student, further said many farmers chose to take dry cakes home. Since dry cakes are not easily available in the village so their kids love to relish them. The muffins with jam spread on the top were also relished by many farmers. Priced at Rs 10, they generally buy these one each for their kids, she said. Cakes are priced at RS 250.
In the same stall at other corner, the students of the same department were selling nutritious and healthy burgers. Karanjot Singh and Jeevanjot Singh at the stall said that these burgers are healthy as the tikki in the burger was made of sprouted dal and oats.
"People from the villages live eating these and find it really tasty. The money collected from the sale goes to the department," said the students.
Santokh Singh, a village-based resident near Sangrur, said his children love to eat muffins. "Whenever I come to the Mela, they never fail to remind me to bring these muffins. They love eating muffins which are not available in their village. Though they are available at the town near us but they are not as tasty as these," he said.
Top News
Development in Himachal possible as people voted BJP to powe...
Addressing a rally in Baramulla, Shah asks whether terrorism...
The Ministry of Defence spokesperson from Tezpur says the mi...
45-50 people, including women and children, were on the bus
Reason for the crime not yet known