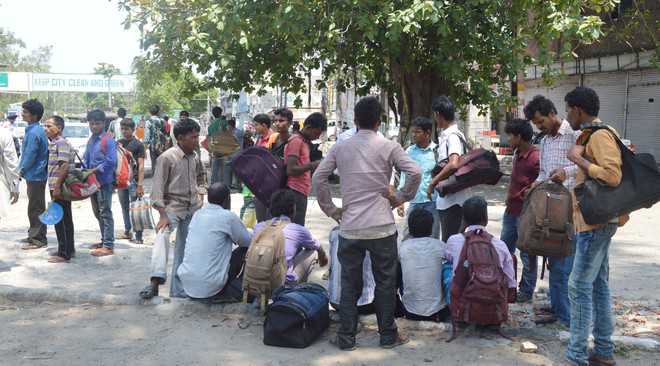 Manav Mander
Tribune News Service
Ludhiana, June 19
With arrival of the paddy season, the influx of migrant labour from Bihar and UP has started.
Punjab Agricultural University (PAU) has advised the farmers to start sowing paddy from June 15 onwards — considering a myth prevalent among farmers that sowing the crop late might help in greater yield.
For migrants, it is the time to make some quick bucks by sowing paddy. This year, the rate being demanded by workers is between Rs 2,600-2,800 per acre. The work for sowing goes on for nearly 15 days and if a worker ends up sowing 10 acre, he manages to earn between Rs 26,000-Rs 28,000.
Some migrant workers who are otherwise engaged in other professions throughout the year also take leave from work to earn quick money.
Ram Bharose, who has come along with his group from Lucknow, said he came to Punjab twice a year — during the wheat and paddy season. "This is the best time to earn quick bucks. We have to work on the fields for 15-20 days and make money between Rs 25,000-Rs 30,000. Rest of the year, I run a dhaba at my hometown and during my absence my son looks after it," said Bharose. He had come with eight other people and will be working in fields at a village near Raikot.
Santosh Kumar, who works at a dyeing unit at Kali Sadak, said he had taken leave from his work for one month. "Although I am working in an industrial unit and I earn Rs 20,000 in a month, by sowing paddy I earn same amount in almost half the time. I will work here in fields for around 15 days and then will go back to my native place to help my father in the fields," he said.
Balkar Singh, a farmer from Lalton village, said the farm workers had charged around Rs 2,200- Rs 2,400 per acre last year and the rate had been increased to Rs 2,600-Rs 2,800 this year. "Since the labour is not easily available, we have to give them the demanded price. No local labour is available, so we are dependent on the migrant labour," he said.
The PAU recommends its new paddy variety, PR-126, as it requires less water, making it suitable for water scarce conditions of the state.