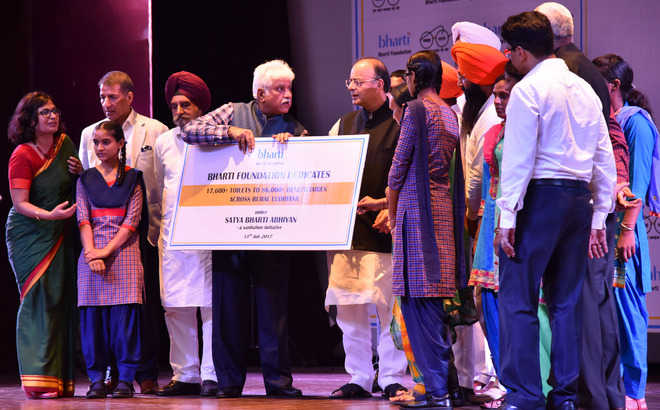 Gurvinder Singh
Tribune News Service
Ludhiana, July 15
Corporate houses should step forward and carry out works for the welfare of people, said Union Finance Minister Arun Jaitley, who was here to attend a function organised by Bharti Foundation to dedicate over 17,000 toilets it had built to more than 80,000 beneficiaries under the Swachh Bharat Abhiyan.
He said corporate houses, public sector firms and government agencies should give 2 per cent of the profit under corporate social responsibility (CSR) for the welfare of the public.
He said a lot has been achieved in the direction of building toilets under Swachh Bharat Abhiyan, but it still was a long journey ahead.
Jaitley said,"There are two faces of this country. In one section there has been a lot of progress, as India is one of the fastest growing countries in the world, and attracting the most investment, and much infrastructure is being developed. But, on the other hand, we are still trying to make electricity reach every village in the country by 2018, build toilets, make permanent roads to each village and make pucca houses."
"An amount of Rs15,000 crore in the country is coming only from private sector under the CSR and if government funds are added to that, sections lagging behind in the country can be transformed," he added. Punjab Finance Minister Manpreet Singh Badal said efforts need to be made to bring back the glory of Punjab. He said the Central and the state governments should put their heads and hands together to bring back the honour of Punjab.
State Rural Development Minister Tripat Rajinder Singh Bajwa said it was unfortunate that the country had not been able to provide toilets to every home. He said other corporate houses should come forward for such causes and development. He said Punjab needs help from the Centre for its development.
Top News
Protesters call for economic boycott from Monday to Wednesda...
National capital's 24-hour average air quality index recorde...
The counting of votes will take place on December 7
French Ambassador Emmanuel Lenain offers full support to Ind...
Spent around 45 minutes with his mother before leaving for t...