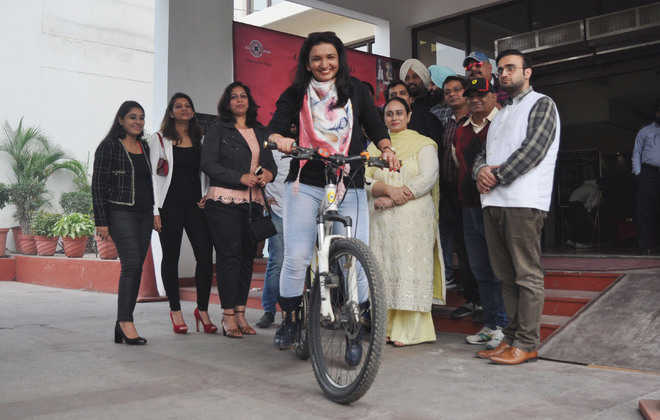 Tribune News Service
Ludhiana, November 13
The super Randonneur series in which a cyclist has to pedal 1,500 km in seven days is an event for those who have a passion for cycling. The event is organised by Dr Chiro Mitra, founder of Delhi Randonneurs, one of the oldest and biggest Randonneuring clubs in India, started in 2011.
Sixtyfour riders from all over the country registered for the event but only five showed the courage to reach the desirable conclusion.
Megha Jain, a local resident, has done the city proud by becoming the first Indian woman to win the "SR Title" (Super Randonneur) in the 1,500-km Randonneur series. The distance was covered by her in seven days. Cycling is her passion and she started dreaming big about a year back by taking part in various competitions in cycling. "It is a dream come true. For a woman, this was a challenge. But I accepted it and performed the task successfully," she said while talking to the media here.
What makes her more dynamic is that she didn't use any security vehicle during the night which she could have opted easily. She rode the bicycle all by herself like the male co-riders. During the nights, visibility was also low but Megha managed to accomplish the task. During the seven days, Jain travelled from Delhi through the states of Haryana and Punjab in this foggy weather. The event started on the night of November 3.
Top Stories