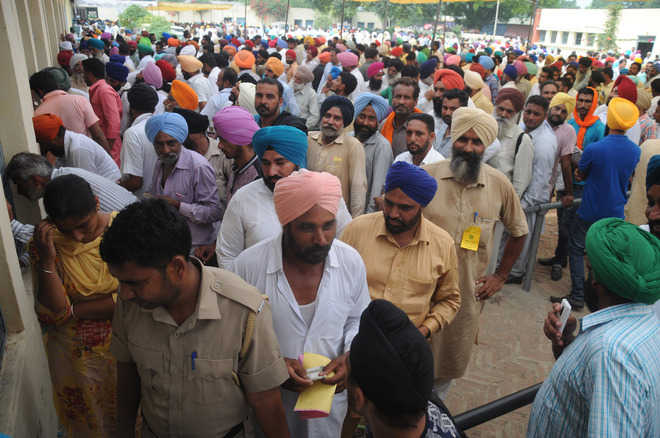 Manav Mander
Tribune News Service
Ludhiana, September 22
Kisan Mela which is held twice a year is the most awaited event for the framers as it is the time when they buy seeds, saplings, medicines and all the necessary things required for farming, which is their chief profession. A visibly excited farmers were today seen entering the gates of PAU and the whole campus today gave a different look with tractors, machinery, seeds and plants etc at display.
The one hour rain did not deter the spirits of the farmers and they were seen braving thorough the rain to make way to the fair.
It is the 50th Kisan Mela at Punjab Agricultural University. This time, the mela is focusing on socio-economic aspect of farmers' suicide.
Manpreet Singh Badal, Minister of Finance, Planning and Employment Generation, Punjab, inaugurated the event. While giving a message to the farmers, he said to farmers to educate their wards farmers can skip one meal.
One meal can be missed but not the education of the wards. Every farmer should necessarily get their children educated so that they can march ahead and not meet the same fate as them, he further said.
"Education will open floodgates of opportunities for your children in diverse fields apart from agriculture," he said while recalling his 25 years of political experience.
Punjab, a land of five rivers, is known for bravery and granary, he remarked, adding that these qualities are bestowed only with the grace of God. "Punjab may progress, but if its farmers are not happy, then state can never be happy," he observed. The state has made substantial contribution in 70 years, but now farmers need to shift from paddy-wheat cycle to alternate crops, he suggested.
Saying that government is parents to its people, he said that the Punjab government has decided to give Rs 2 lakh as debt relief to small and marginal farmers. For the first time in 70 years, agriculture policy is also going to be framed by Punjab State Farmers' Commission," he disclosed.
Badal further revealed: "I have written to the Union Finance Minister of India, Arun Jaitley, requesting him to rename Food Policy as Nutrition Policy." Only PAU can contribute to this policy, he said, while congratulating University for ranking best in all aspects.
Defence security as well as food security is equally important for the country and the states, he added. While concluding, he remarked, "There was a time when it was said, "Dab ke vaah, rajj ke khah" but now the time calls for "Akal na vaah, rajj ke khah (plough wisely, eat plenty)."
In his presidential remarks, Dr Baldev Singh Dhillon, Vice-Chancellor, PAU, said the theme of the mela aims at urging the farmers to cut expenses on social functions.
Farmers honoured
Vivacity and avidity marked the first day of Golden Jubilee of the Kisan Mela. The chief guest honoured four progressive farmers and one woman entrepreneur. Jagtar Singh Gill of Sireye Wala village, district Bathinda, was awarded with 'Parwasi Bharti Award 2017' while Harpreet Singh of Haripur village, block Amloh, district Fatehgarh Sahib, was awarded with 'Sardar Ujagar Singh Dhaliwal Memorial Award 2017.' Satvir Singh Saran of Sidana village, district Bathinda, won 'Sardar Surjit Singh Dhillon Award 2017', while Sukhdev Singh Bhullar of Bhullar Bhet village, district Kapurthala, was conferred with 'Sardar Dalip Singh Dhaliwal Memorial Award 2017.' Kumari Rekha Sharma of Ramgarh Sikri village, district Hoshiarpur, won 'Sardarni Jagbir Kaur Memorial Award 2017.'
Staff honoured
An agriculture officer and four PAU scientists were also honoured for their contribution to agriculture. These included Beant Singh, Chief Agriculture Officer (Fazilka); Dr HS Rattanpal, Senior Horticulturist; Dr RS Boora, Horticulturist, Fruit Research Station (Bahadurgarh); Dr Bhupinder S Dhillon, Associate Director (Training), Krishi Vigyan Kendra (KVK), Naag Kalan (Amritsar); and Dr Harinder Singh, Deputy Director (Training), KVK Fatehgarh Sahib.
Postal stamp released
At the mela, a postal stamp made specifically for the 50th Kisan Mela of PAU was also released by the chief guest. Farmers made a beeline at the PAU to purchase quality seeds of various crop varieties and farm literature
PAU employees meet FM
The finance minister of Punjab Manpreet Singh Badal assured the PAU Employees to fulfil their demand of increases in grade pay of Laboratory Attendants form Rs 1,900 to Rs 2,400 at the earliest. A deputation of PAU Employees' Union under the leadership of Baldev Singh Walia, President PAU Employees Union, met Manpreet Singh Badal on the PAU campus. Walia said this was a long pending demand and had been implemented in schools and other universities of the state already.
Top News
Addressing a rally in Baramulla, Shah asks whether terrorism...
Development in Himachal possible as people voted BJP to powe...
The Ministry of Defence spokesperson from Tezpur says the mi...
45-50 people, including women and children, were on the bus
Reason for the crime not yet known