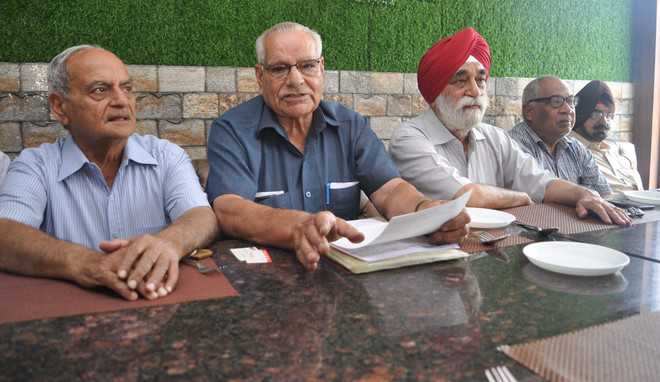 Kuldip Bhatia
Ludhiana, May 10
Shaheed Bhagat Singh Nagar (SBS) Senior Citizens Welfare Society (E-Block) has come out as a pioneer in providing various amenities to residents of the colony, all on a voluntary basis. Due to persistent efforts made by the society, which has now completed one year of existence, visitors to the parks get free cold/hot mineral water and disposable glasses. They also get langar of tea biscuits, lime water and rusks in the morning.
Addressing a news conference to celebrate one year of successful operations, Pran Nath Bhatia and Surjit Singh, chairman and president respectively of the society, said started by a handful of senior citizens of the colony (developed by the Ludhiana Improvement Trust) last year, the society had now become a big family with residents of various surrounding areas, such as Vikas Nagar, Gobind Nagar, Vishal Nagar, Karnail Singh Nagar and Housefed flats, also joining in to contribute towards welfare activities for the residents.
Highlighting other welfare projects being run by the society, they said free shoes and woollen jackets were distributed among poor students of government schools, langars were organised on various occasions and financial assistance was given to needy senior citizens.
Bhatia and Surjit Singh expressed their gratitude to LIT chairman PS Gill who had issued instructions to the officials to consider the demands put forth by the society for providing public conveniences, a rest room for senior citizens and installation of a statue of martyr Bhagat Singh in the park of E-Block.