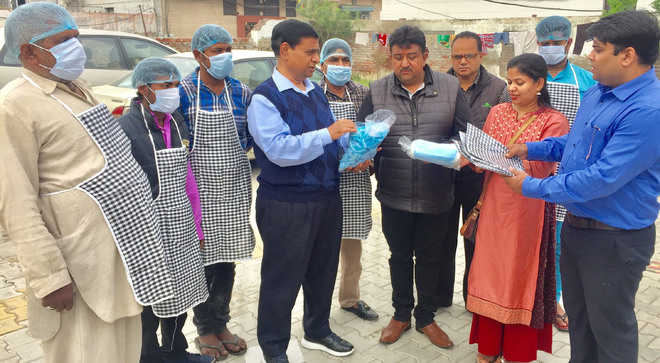 Our Correspondent
Mandi Ahmedgarh, April 1
Local food operators vowed to take preventive measures and adopt standard procedure of manufacturing and handling food items.
The call was made by Ravinder Garg, Assistant Commissioner, Food Safety, during a workshop held at Jain Sathanak.
Food operators also asked their family members to ensure that food safety norms were followed at their homes as well.
Prevention of contamination of raw material, packing and storage of finished products, personal hygiene and compliance of various sections of food safety laws, were cited by the officials of the Food and Drug Administration Department.
Councillor Deepak Sharma, BJP functionary Parmod Gupta and Tony Aggarwal led the food operators.
Garg claimed that about 120 entrepreneurs updated their knowledge related to various aspects of preparation of food items and its handling.
He said the administration has launched a coordinated movement to impart training under the Mission Tandrust Punjab as per the guidelines of the Food Safety Standards Authority of India (FSSAI).
A team of officials from the RIR Certification Private Limited led by Gaurav Kumar highlighted various aspects of food safety and compliance of laws.
Food Safety Officer Divya Goswami supervised the workshop.
The organisers provided kits comprising caps, aprons and masks to those directly engaged in preparation, processing and service of food items.
Top News
In fresh tweet, says don't use Maiden syrups