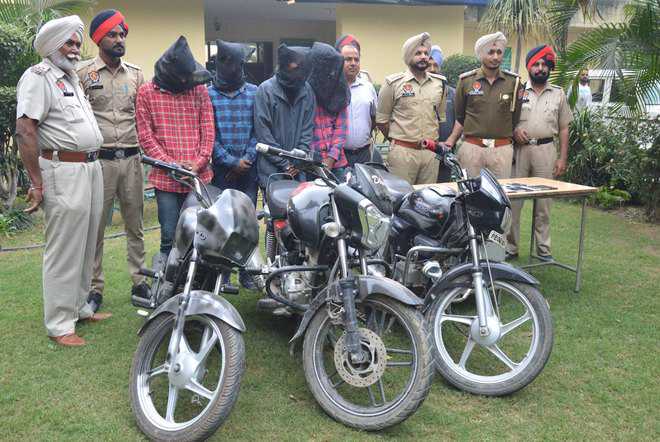 Tribune News Service
Ludhiana, November 14
The Sadar police claimed to have nabbed four snatchers and recovered 13 mobiles besides three motorcycles from their possession. They have been identified as Ravi, alias Ganja (32), of Sirsa in Haryana; Gurdeep Singh, alias Kaka (22), of Manakwal; Balwinder Singh, alias Babblu (25), of Thakarwal; and Manjit Singh (24) of Bathinda.
Assistant Commissioner of Police, South, Jashandeep Singh Gill conducted a press conference on the matter.
Gill said the police had received secret information that some persons were running a gang of snatchers and they targeted commuters at isolated places. They had committed more than 12 snatchings in the city areas, including Dugri, Dhandra, Sarabha Nagar, Phullawal and Pakhowal road.
They snatchers took to crime to meet their expenses on drugs. During preliminary questioning, they confessed their role in 10 snatchings. The police suspected that they had committed more incidents and in further probe, their involvement in other cases would be established.
The police will seek police remand of the suspects so that more of their aides could also be arrested.
Top Stories