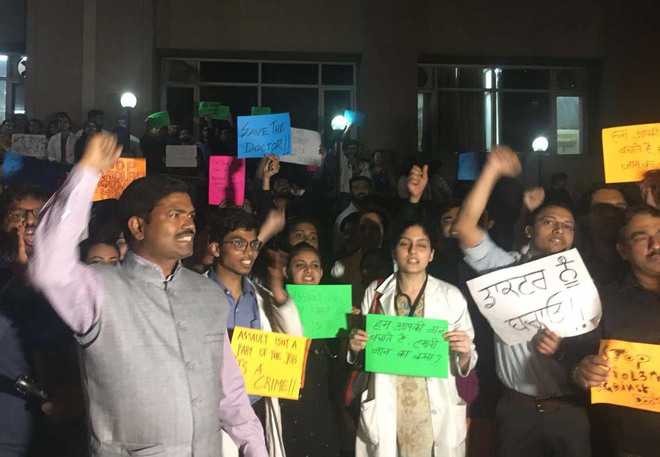 Tribune News Service
Ludhiana, February 23
Members of the Indian Medical Association (IMA), Ludhiana unit, have condemned the attack on doctors of Christian Medical College and Hospital (CMCH) by kin of a deceased patient.
"We stand by the CMCH doctors and request the police to book the perpetrators of violence under the Punjab Medicare Protection Act. Such acts of violence in hospital should be condemned and discouraged," said Dr Arun Gupta, president of the IMA.
Yesterday, relatives of a child named Muskan, who died at the hospital, vandalised the hospital and resorted to violence on the hospital premises.
Sources said the relatives of the patient created chaos at the CMCH and had beaten up two junior doctors, female nurse staff and security guards.
One of the relatives of the deceased said they lost the child due to negligence of doctors.
Sources said on February 17, Muskan was admitted to the pediatrics ICU as she was suffering from sepsis and pneumonia, fever, and lung infection. "Our doctors did their best to save the child. We provided her with best treatment, but she was sick from the day she was admitted and her relatives were informed about her condition. Her relatives wanted to shift her to another hospital due to financial reasons. She passed away while she was being shifted to another hospital," said spokesperson for the hospital.
Peaceful protest
Doctors of the CMCH resorted to a peaceful protest on the hospital premises on Friday. They condemned the attack on doctors at the hospital on Thursday and carried placards which read 'We want justice'
Top News
The BSF personnel open fire after noticing the movement of t...
India formally assumed the G20 Presidency on Thursday
The move will allow more than 200,000 workers who have famil...