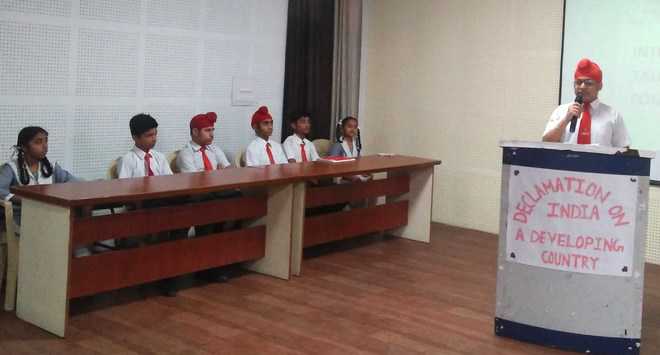 Ludhiana: An inter-house talent hunt was organised at BCM School, Chandigarh Road, for the students of the middle wing. Students showcased their talent in declamation, portrait-making, biography writing and singing competitions. In biography writing, Kritisha of Ravi house, in portrait-making, Bhawya of Yamuna house, in declamation, Lakshay of Satluj house, and in singing, students of Yamuna house bagged the first position. The principal congratulated the students and motivated them to adopt the spirit of healthy competition.
Hawan Yajna held
Police DAV Public School, Police Line, Civil Lines, performed a havan ceremony on the campus to seek the blessings of the Almighty. The havan was performed by Acharya Roshan Lal Arya. The principal, Dr Anu Verma, ignited the 'havan kund'. She inspired the students to work with stern commitment and perseverance.
GN Model girls shine
Doraha: Under the CBSE curriculum, various academic and non-academic activities were conducted by CBSE affiliated schools. GN Model School also encouraged the students to take active part in such competitions. The girls of the school outshone in the 2nd Punjab State Juniors Girls Boxing Championship 2019, organised by Punjab State Boxing Association, at Phagwara from April 11 to 14. The girls secured bronze medals under various weight categories. Harshpreet Kaur of Class IX won a bronze 34-36 kg weight category, while Navdeep Kaur and Muskan of Class VIII secured a bronze under 50-52 kg category. The principal, DP Thakur, congratulated the winners. OC
Blossoms Convent makes it to top
Ludhiana: Blossoms Convent School has always been known for its achievements academics and sports. At a school leadership summit held at Chandigarh, the school was enlisted in India's top most schools. Principal Dr Amarjeet Kaur Naaz accepted the award shared her gratitude. She said the award was the result of collective efforts of the team of the school. She also thanked the parents for their faith in them.
Mahavir Jayanti celebrations
Mahavir Jayanti was celebrated with great zest and zeal at USPC Jain Public School, Chandigarh Road, to mark the birth anniversary Lord Mahavira. A special religious assembly was conducted which commenced with the chanting of Navkar Mantra, followed by a speech on Lord Mahavir's preachings.
Bhartiya Vidya Mandir
Bhartiya Vidya Mandir, Chandigarh Road, commemorated the birth anniversary of Lord Mahavir. A special assembly was organized in which Vrinda, a student of Class VII, narrated his teachings. A documentary on the life of Lord Mahavir was also shown to the students. A slogan writing competition on the theme of the teachings of Lord Mahavir was also organized. The principal, Upasna Modgil, stressed the need to rise above superstitions and follow the path shown by Lord Mahavir.
Seminar on personal hygiene
Under the project of the British Council, the Class III students of BCM were sensitised regarding personal health and hygiene through a PowerPoint presentation at Mahatma Satyanand Munjal Activity Hall. The presentation highlighted the significance of good health and hygiene. Slides on comparative study of healthy eating habits and hygiene practices of different countries such as India, Japan and Nigeria were shown. Emphasis was also laid on the importance of cleanliness of our surroundings. TNS