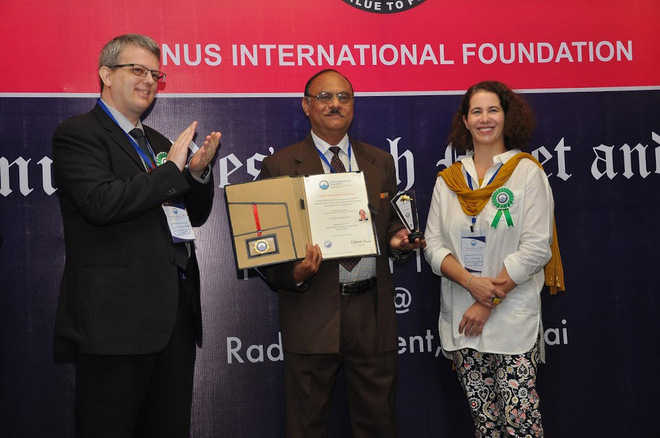 Tribune News Service
Ludhiana, November 21
Dr Hari Mohan Saxena, Professor of Immunology at Guru Angad Dev Veterinary and Animal Sciences University (GADVASU), Ludhiana, has been conferred with the Lifetime Achievement Award in Veterinary Science by the Venus International Foundation at the Annual Research Meet 2017, organised at Chennai recently.
The award was presented to him by the chief guest Christine Berberich from the United Kingdom, and the guest of honour, Dr Gavin Stewart, from Singapore.
The award has been bestowed upon Dr Saxena for his research contributions in immunology and infectious diseases.
He is a senior professor and has been involved in teaching immunology and research work on infectious diseases of domestic animals.
Dr Saxena has made original research contributions in diagnosis and control of brucellosis and hemorrhagic septicemia in cattle and molecular pathogenesis of infectious bursal disease of chickens. His current interest is in the application of bacteriophages (viruses which kill bacteria) in improved diagnosis, therapy and prevention of important bacterial diseases of livestock where vaccine failures and bacterial resistance to antibiotics are rampant.
Dr Saxena is a recipient of the National Excellence Award and Eminent Educationist Award and is a Fellow of the World Innovation Foundation, UK, and National Academy of Veterinary Sciences, India.
He has obtained patents in the USA, Europe, China and South Africa for his innovations and won several prizes, including four gold medals and one silver medal, for his research contributions