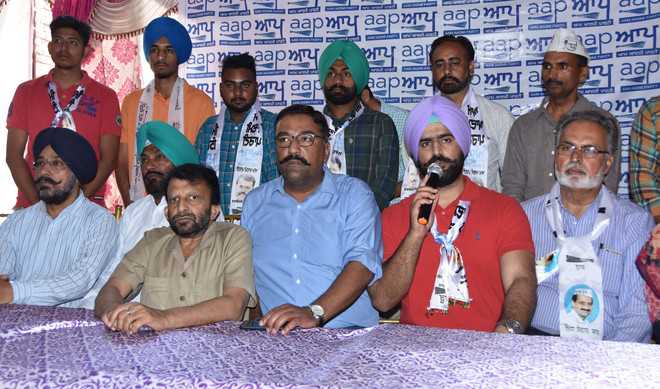 Harshraj Singh
Tribune News Service
Ludhiana, April 19
After opening of party's office at Ferozepur Road, AAP candidate Tejpal Singh Gill (32) said he wanted to see the Delhi model of development in Ludhiana by improving health services and education system.
He said the city issues remained the same and unaddressed during the elections as both traditional parties had been doing politics on these problems for long.
He said, "The health system is in a very bad shape in Punjab. If we compare, Delhi's government hospitals and mohalla clinics are providing much better services to the patients. But government hospitals are in s poor shape here. The Civil Hospital in Ludhiana has always been ignored. People from economically weaker sections are forced to get treatment at private hospitals due to poor government health services."
"If I become MP, my salary would be donated for treatment of the patients suffering from cancer, hepatitis or water-borne diseases," he said.
"It would be my aim to eliminate the parking mafia, which has been fleecing visitors for years and check other mafias in the city. The smart city tag is just an eye wash. The funds for smart city projects are being used for useless and unplanned projects by ignoring basic amenities. The fact is that the sewers are overflowing in around 60 wards of the Ludhiana MC while residents are forced to consume contaminated water," he said.
Coming in their support, Gill said the industrialists couldn't be held responsible for polluting Buddha Nullah as the government failed to ensure proper disposal of treatment of effluents from industries.
"Industrialists pay tax to the government, but no facility is provided to them. The industrialists are not at fault as the government is responsible for providing facility to ensure treatment and recycling of water from the industries. No steps are being taken to sort out polluted Buddha Nullah issue while many people in Punjab and Rajasthan have suffered due to polluted waters. Such matters are required to be raised in Parliament for early redressal," he said.
He said, "It is one of our aims to set up an exhibition centre for industrialists in the city. If I become MP, I would open one of my offices at Focal Point to hear grievances of industrialists," he said.
"Those who were elected Member of Parliament from the city in the past 10 years had only used the city issues for their politics instead of raising these issues in Parliament. If I get a chance to reach Parliament, I assure that I will raise city's issues there," he said.
"Unemployment is a major issue here as many educated youths are unemployed. Even after pursuing Ph D in jail administration, I am doing a job of assistant professor at a monthly salary of around Rs 15,600. Even a 'mistri' (labour) or other worker earns up to Rs 1,000 per day but I earn only around Rs 500 in a day after doing a doctorate degree. There is a dire need to bring reforms and to improve the system," he said.