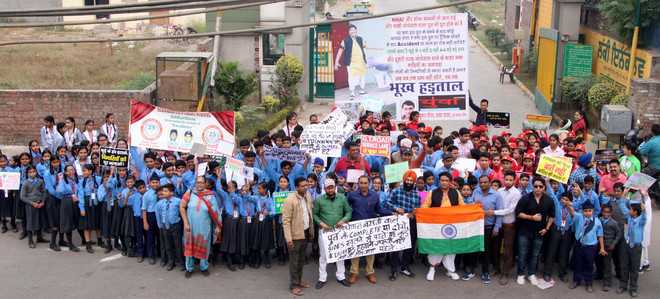 Tribune News Service
Ludhiana, November 11
Members of a city-based NGO, 'Yuva', today observed a fast to register their protest against the garbage dumps on the National Highway 44 (Ludhiana-Delhi road). They also protested dumping of vehicles impounded by the police, on the road outside the Jodhewal police station.
Members of the NGO, along with schoolchildren, also took out a "swachhta" rally to wake up the authorities concerned. The NGO blamed the Municipal Corporation and the police for failing to remove these garbage dumps and vehicles from the highway.
Kumar Gaurav of Yuva said the Jodhewal Basti flyover would be completed soon but accidents and traffic snarls will continue to take place due to four garbage dumps on the national highway. He said the vehicles impounded by the police had been dumped in the service lane outside the Jodhewal police station for a long time. The authorities concerned are taking no measures to get these vehicles removed, he added.
Raising questions over the role of the authorities concerned, one of the members said while challans were often issued to street vendors for encroaching on road, there was no check on these garbage dumps and dumping of vehicles on the highway.
A group of shopkeepers also extended support to the NGO by participating in the protest. Chander Pal from Jodhewal Basti Market said: "We had requested the MC Commissioner and the Mayor to visit here to hear us, but to no avail. However, DCP (Traffic) Sukhpal Singh Brar did visit here to hear our problems."
A service lane near Jodhewal Basti often remain blocked with garbage as the civic body has failed to get the dump shifted. Scooterists are forced to pass through heaps of garbage, putting their lives at risk. Repeated protests by the local residents have failed to stir the authorities concerned into action.
Dumps to be shifted soon: Mayor
Mayor Balkar Singh Sandhu, who was at Sultanpur Lodhi on Monday, said the garbage dumps would be shifted from the nationla highway very soon as the Municipal Corporation was going to install static waste compactors. He said the Punjab Mandi Board had given its approval to earmark a piece of land for shifting these garbage dumps from the highway.