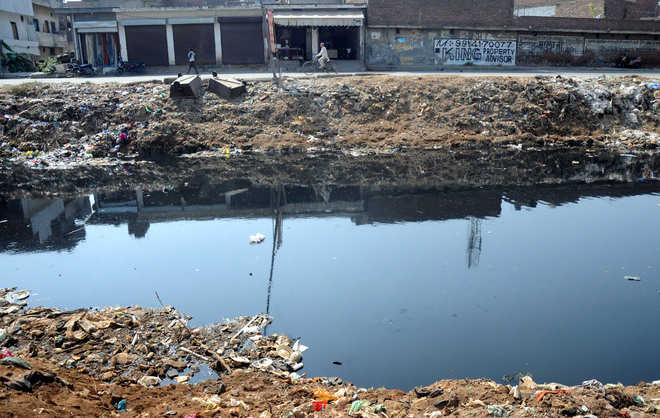 Gurvinder Singh
Tribune News Service
Ludhiana, February 5
Given the deteriorating environment in the industrial town and state, environmentalists and residents have appealed to the Congress government to allocate adequate funds for reducing pollution in Punjab.
They said as all districts, including Ludhiana, in the state were already facing mounting threats to the environment, so reducing pollution should be one of the top priorities of the government in the forthcoming state Budget.
"While the Central government has not increased grant for the environment, the Punjab government must show prudence to solve pollution-related problems in the state," they added.
"The Congress is the only party to speak about 'green manifesto' and environment before elections. It is a good opportunity for the state government to walk the talk," said Dr Amandeep Singh Bains from RBS Roots.
"The number one environmental problem that North India is facing is that of Buddha Nullah passing through the district, which is affecting a population of a minimum of 80 lakh people due to its polluted waters," he said.
"The problem of Buddha Nullah must be addressed and good funds must be allocated to resolve the problem because insufficient financial support will not help and whatever amount is spent will only get wasted," he added.
"The government must sanction at least Rs 2,000 crore with long term vision of at least 50 years ahead," said Dr Bains.
"Engineers India Limited has also submitted a report, which has some viable solutions, but it looks at the way out only till 2035, which is not long-term," he added.
"The government must purchase 100 acre also in the area for the future expansion of the treatment plants and cleaning up the nullah water," he said.
"To solve this problem, the government may also levy a cess if need be. The issue of Buddha Nullah must be resolved because people are paying a bigger price in terms of serious ailments like cancer, which is caused due to polluted water of the nullah. The state government must also reach out to international agencies and the Central for aid to solve this problem," he added.
"Also, there is an urgent need to set up a different cell to deal with environmental concerns, take action and redress complaints as nobody takes the responsibility in such matters whenever any complaint is lodged," he said.
"Tree cover in the state also continues to dwindle. There is an immediate need to work in this direction. The government must allocate funds for stricter check on release of sewage and industrial waste into the groundwater in violation of norms and threatening the future of the people at large," he added.
"A management system should be set up to manage solid waste and use it to for power generation. Besides, recycling units can be established to derive useful products from the waste," said Maneet Dewan, president of I am, an NGO.
"Efforts should be made to promote solar energy, besides there should be an efficient public transport to replace three-wheelers and reduce vehicle density on roads," he added.
"The ruling dispensation must find a long-term solution to stubble burning. Though the government has been talking about 'swachhta', where should garbage be disposed of. There is no infrastructure built for waste disposal, which is a must for maintaining cleanliness," said Mridula Jain, chairperson, Let's Clean Ludhiana Foundation, while speaking on the issue.
"The focus must be on solar energy rather than on thermal plants. Solar and renewable energy will help do away with the need for thermal plants, which are also a major source of air pollution due to burning of coal," said Ravneet Pal Singh, project manger of EcoSikh for South Asia.
"The government must devise ways to stop wastage of water as its significant amount gets wasted in the supply. Increase of forest cover is a must because it is already too less and continues to dwindle," he added.
"Buddha Nullah should be diverted out of the city from the Dhanansu area until where the rivulet is clean," said Col Jasjit Singh Gill, founder-member Let's Clean Ludhiana Foundation.
"Under the garb of Buddha Nullah several industries, including electroplating and dying units, are releasing harmful chemicals in the stream, besides several direct pipes discharge sewage directly into its water," he added.
"The report by Engineers India Limited is only a short-term solution till 2035. If the process begins now, the project will likely be operational by 2025. It will manage problems only for 10 years. The project should provide a long-term solution," he said.