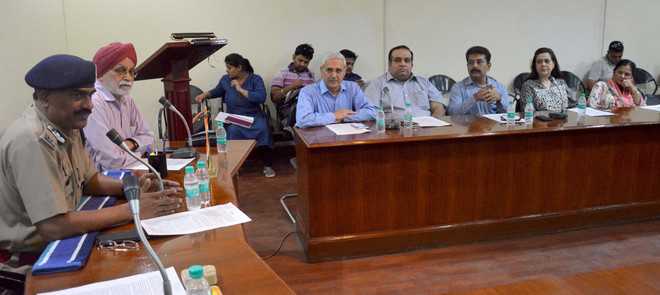 Tribune News Service
Ludhiana, June 23
In order to forge a better bond and bridge the trust deficit between the police and the public, Police-Public Foundation, a concept of community policing was launched by the police along with residents of the city today.
A first of its kind initiative in the district, Commissioner of Police (CP) will be the president, Deputy Commissioner of Police general secretary and prominent members from the city as governing council executives of the organisation.
CP RN Dhoke said, "Community policing has been launched to forge a partnership between the police and the public in order to help society take an active part in redressal of issues, which include traffic violations and congestion, child labour among others."
To serve as think tank
The CP said, "The foundation will work as a think-tank to help address problems and issues in the city."
"The overarching aim is of maintaining peace and communal harmony with community participation, dealing with socio-religious issues and mediating in such affairs, developing and spreading the idea of friendship and fraternity amongst people," he added.
Making administration working transparent
Some things that society would strive for are to bring transparency in public administration and promoting community participation in governance and administration, said Dhoke.
"The foundation will provide grievance redressal mechanism, help district administration and the police in taking effective steps against drug smugglers, spread awareness amongst general public about ill effects of drugs, inculcate sportsmanship sprint amongst youth, promote culture of sports, help in conducting motivation and counselling sessions by prominent personalities to encourage youth to shun drugs," he added.
Awareness on traffic rules
"The police and the district administration will work together to educate the public about traffic rules and safety by holding seminars, meetings and plays whose special focus will be on encroachers, public transport and school bus drivers," said Dhoke.
Empowering women
The foundation would also empower women by helping them raise their voice against exploitation injustice and atrocities against them, help them get free legal aid in matrimonial disputes, create awareness about their rights, part from establishing mechanism for prevention of eve teasing, molestation, indecent representation and sexual harassment, added the CP.
Child labour
The foundation will educate the public on exploitation of children at work places, factories, other places and work towards elimination of child labour. It will help save children from beggary and take steps in tracing and recovering missing children from the area.
Crime against weaker sections
Sensitising administration and the police towards atrocities and crimes committed against weaker sessions of society, including schedule castes, labourers, senior citizens will be another function of the foundation.
Cyber crime
Another task of the foundation will be to make the general public aware of cyber crimes and keep the police updated with latest developments in laws related to the field. "At least 50 personnel are being given training in this segment. The complaints related to cyber crimes have started increasing. There were many complaints by girls last week related to fake ID's on their names," said Dhoke. "We will rope in experts to help curb and resolve cyber crimes," he added.
Noise pollution
The foundation will also sensitise people about noise pollution, including use of loud speakers, prohibiting use of horns and control on pollution by vehicles.
Timely help
"One of the important functions will be to provide timely help and counselling to victims of accidents, rape and child abuse. A couple died in accident recently, but what about the trauma that children went through. The foundation members would help reduce the suffering and impact on such victims," said the CP.
Managing CCTVs
"The Safe City Project has been launched and cameras are being installed for monitoring. But, there will be community participation in installing, networking and managing of CCTV cameras. The feed from CCTV cameras installed by residential welfare societies may also be included for more effective surveillance," said Dhoke.
NGOs to be roped in
"Help will also be taken from members of NGOs already working in fields, including traffic, women issues and child labour," said the CP. So, it would be a kind of resource pool to address issues and build a strong a public-police partnership, he added.
Members of the governing council welcomed the idea and applauded the initiative of the Commissioner of Police.
SC Ralhan from the governing council said there was a trust deficit between the police administration and the public. The foundation would be a common platform and help bridge the gap, he added.
Top News
Eye on China, reiterate commitment to ensure free, open Indo...
Rubbish reports of their withdrawal from protest
Puri Vande Bharat 1st passenger train to run on restored tra...
PGI 2nd best medical institute after AIIMS-Delhi; PU slips t...
Says world paying price for wrong policies of some developed...