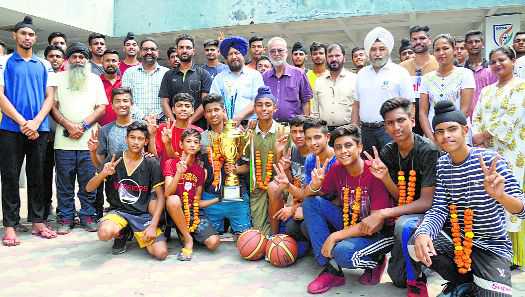 Our Sports Correspondent
Ludhiana, September 12
Players of the Punjab boys' basketball team were accorded a warm welcome on their arrival here on Wednesday. Punjab boys secured silver medal in the 46th Sub-Junior National Basketball Championship held from September 3 to 9 at Cuttack in Odisha.
In the final, Punjab waged a spirited battle against Mizoram before going down 46-51 and had to content with the runners-up trophy.
As the boys and team officials alighted from the train at the local railway station, they were received by officials of the Punjab Basketball Association (PBA), trainees of the Ludhiana Basketball Academy, besides officials and coaches of the Punjab Sports Department. Dhols were also in attendance there that enhanced the celebration mood of the occasion.
The players and officials were garlanded and taken to Guru Nanak Stadium in a procession. On reaching there, they were received by Teja Singh Dhaliwal, senior vice-president of the Basketball Federation of India, and others.
Dhaliwal congratulated the players and their coaches on this achievement. He also announced that the boys would be felicitated by the PBA at a function later this year.
Among others who were present at Guru Nanak Stadium, included Balkar Singh Brar and JP Singh, both vice-presidents of PBA, Vijay Chopra, Prof Rajinder Singh, besides Ravinder Singh, District Sports Officer, Ludhiana, Jaspal Singh Sidhu, Rahul Rajdeep, Devinder Singh, Ravinder Singh and Saloni.
Runners-up
In the final, Punjab waged a spirited battle against Mizoram before going down 46-51 and had to content with the runners-up trophy
Top Stories