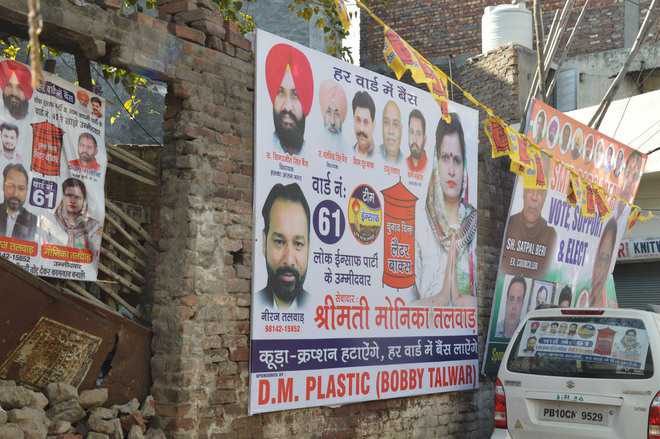 Gurvinder Singh
Tribune News Service
Ludhiana, February 25
Widespread use of flex hoardings by candidates and political parties during election campaigns in the run-up to the MC elections has left the city in mess. Flex boards have not only defaced the city, but also created environmental hazard as these are made from non-biogradable material, including the PVC.
Almost all candidates used flex boards during campaigning in their respective wards. Very few cloth banners, which are less dangerous for environment, were used for promotion during election campaigns.
As flex boards are made of plastic material it is not possible to dispose these safely without causing harm to the environment.
Notably, before the Assembly elections in 2016 in five states, the Election Commission had asked political parties not to use plastic banners for promotions during electioneering.
The National Green Tribunal had directed the Ministry of Environment and Forests to ban or regulate the use of PVC or chlorinated plastic in use of banners.
Residents said the state government should learn its lessons and ban use of plastic boards for promotions, especially during the election.
"The Election Commission must enforce a complete ban on the use of flex boards during elections," they added.
"Flex banners are rampantly used because these are quick and cheaper to be make. These are turning into a big environmental hazard," said Ramanjit, a resident.