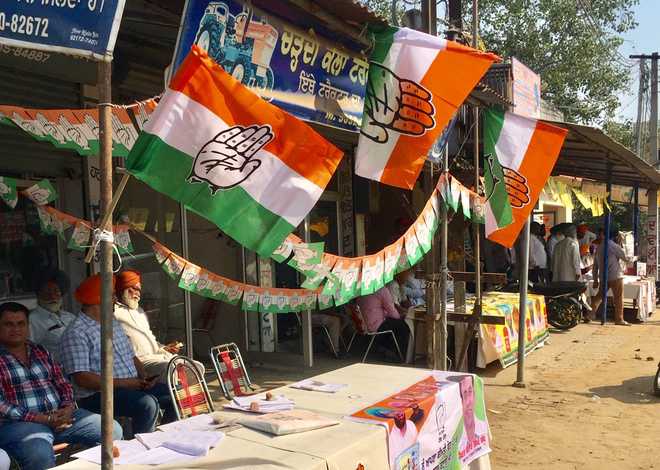 Mahesh Sharma
Mandi Ahmedgarh, October 21
Relatively low turnout was witnessed in this part of Dakha Assembly constituency during the polling that took place at a snail's pace the entire day today.
Large-scale immigration of youngsters to foreign countries and preoccupied schedule of farmers and agricultural labour were cited as major reasons behind the tendency. Long duration of polling time was also cited as another reason for the slow pace of polling.
Observations revealed that polling took place at very slow pace at a majority of polling stations established at various villages in this part of Dakha Assembly segment. Despite tough contest between Congress nominee Captain Sandeep Singh Sandhu and SAD candidate Manpreet Singh Ayali, poll percentage, which was 71.64, could not be termed much encouraging.
A veteran leader of Congress party, Jagpal Singh Khangura said a large number of youths, who were enrolled as voters in villages of the region, had immigrated to Canada, New Zealand and Australia on the basis of student visa in the past few years. "There is hardly any clan in our village, from which one or two youths have not settled in foreign countries," said Khangura, maintaining that parents of some of the youths had also gone to stay with them for short durations.
Aman Afridi, a youth SAD leader, acknowledged that unlike earlier elections, long queues of voters were nowhere to be seen as voters reached the polling station steadily during the day. Similar trend was seen on polling booths established by the supporters of various candidates, said Afridi.
"There were times when the staff at polling stations had to sit idle for long intervals as voters rarely came in groups. Those belonging to agricultural families had to adjust with other members of the clan to ensure that harvesting work was not interrupted," Afridi said.