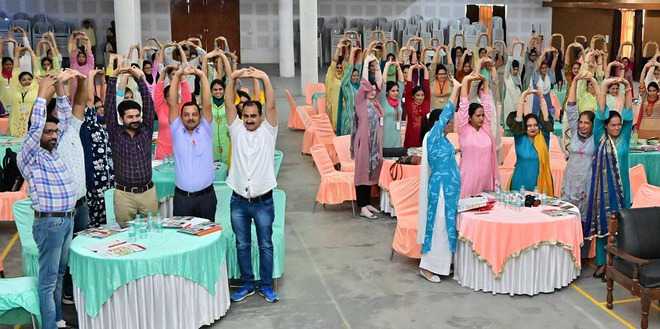 Our Correspondent
Doraha, September 29
A workshop on stress management was organised at Guru Nanak Model Senior Secondary School today with the objective to identify stress signature, create awareness and develop a number of techniques for self management and handling the effects of increased workload, anxiety and stress at workplace. Teachers from 24 schools participated in the workshop.
"Increased use and integration of technology has brought tremendous changes in the role of teachers in the education system. Being equipped with current knowledge and modern methods of acquiring knowledge are essential for teachers. Accordingly, it was deemed fit to reflect, discuss and assess possible ways to improve the day-to-day communication between teachers and their students," Sumit Bhardwaj, resource person, said.
With the help of videos and PowerPoint, he explained the concepts to teachers, including the three Cs, difference between old and new environment, effective classroom management skills etc. He outlined the objectives and measures of training sessions to all participants. The main objectives of the workshop was to share knowledge among teachers, to discuss strategies for effective classroom teaching - learning and to motivate teachers to use creative and effective ways in teaching by reducing stress and making learning a joyful experience for the young generation.
Principal DP Thakur expressed: "The training workshop as a counselling procedure meant to relieve depression and anxiety of the educators in their professional life."