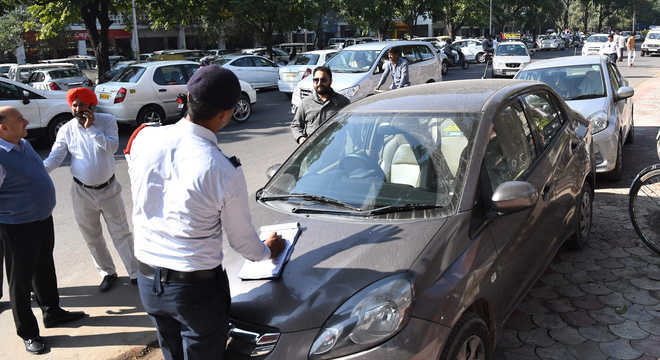 Kuldip Bhatia
Ludhiana, October 22
Habitual offenders of traffic rules are in for trouble as the traffic police have decided to act tough against violators. The process of impounding driving licence (DL) for certain offences has already been set in motion, which provides for suspension of DL for a minimum period of three months as per the guidelines of the Supreme Court Committee on Road Safety.
Assistant Commissioner of Police (Traffic) Gurdev Singh told The Tribune that as per the directions of the Apex Court, the challaning officer of the traffic police could confiscate the driving licence of violators for certain offences and forward the same to the licensing authority, who would suspend the same for a period of not less than three months under Section 19 of the Motor Vehicles Act - 1998 read with rule 21 of the Central Motor Vehicle Rules - 1989.
A letter to this effect was issued by the Member Secretary of the Punjab State Road Safety Council-cum-State Transport Commissioner, Punjab, to the Additional Director General of Police (Traffic), Punjab, along with all Police Commissioners, Senior Superintendents of Police and District Transport Officers in the state way back in December 2015.
The ACP said the offences under which the driving licence of the offenders could be confiscated and sent for suspension to the competent authority include violation of speed limit, jumping red light, overloading of goods and passenger carriers, drunken driving and use of mobile phone while driving.
He said strict instructions had been issued to deal sternly with the traffic violators so that scrupulous implementations of laws could be ensured and the offences, which posed a threat to road users, could be cut down.