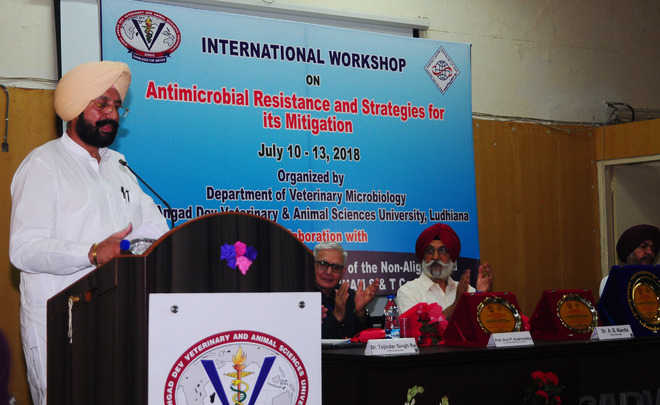 Manav Mander
Tribune News Service
Ludhiana, July 10
Swine fever vaccine developed by the Punjab Veterinary Vaccine Institute (PVVI) to protect pigs from the deadly disease was launched on Tuesday at the Guru Angad Dev Veterinary and Animal Sciences University's (GADVASU) four-day international workshop on "Antimicrobial Resistance and Strategies for its Mitigation".
Minister of Animal Husbandry, Dairy Development and Labour Department Balbir Singh Sidhu launched the vaccine and distributed it among pig farm owners.
To develop this vaccine, a Memorandum of Understanding (MoU) was signed between the PVVI and the Indian Veterinary Research Institute (IVRI). Two vet doctors of the PVVI visited the IVRI for training and now the PVVI has started preparing the vaccine in the state.
Vice Chancellor of GADVASU Dr AS Nanda said after Karnataka, Punjab is the second state in the country and first in North India where this vaccine is being prepared.
"Earlier, rabbits were killed during the trial for manufacturing the vaccine but now only pig's cell culture-based technology is used to make the vaccine," said Dr Nanda.
The minister urged scientists to develop a vaccine to protect cow from mastitis which will benefit livestock farmers. He also congratulated vet scientists for developing haemorrhagic septicemia vaccine.
4-day workshop kicks off
Animal Husbandry minister Balbir Singh Sidhu inaugurated a four-day international workshop. The minister exhorted scientists to suggest possible remedies to curtail the menace of antibiotic resistance (AR).
VC Dr Nanda stressed upon economic impact of disease outbreaks due to "superbugs" and their adverse effects on medical tourism of any country.
Dr Arun P Kulshreshtha, Director General of Centre for Science and Technology of the Non-Aligned and other Developing Countries said problem of AR has reached dangerously high levels, specifically in developing nations. He said ongoing workshop will definitely come out with positive resolution in study of AR.