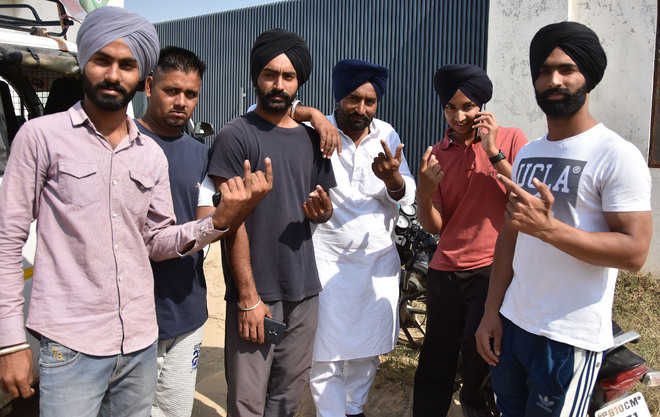 Harshraj Singh
Tribune News Service
Ludhiana, October 21
Youngsters who came to exercise their franchise during polling in Dakha constituency, want that the future MLA fulfils the promises made to them and ensure jobs to the unemployed on a priority.
Dakha constituency is badly hit by drug menace and many youngsters want that drugs be eradicated completely from the constituency as well as from the state. In some villages, youngsters demanded that sports activities be promoted.
After casting his vote at Mandiani village, Amrinderjeet Singh said: "We want that our future MLA fulfils the promises which have been made to us. It should be made mandatory that the successful candidate must ensure completion of poll promises otherwise they should not be allowed to make any promise before the poll. There should be a strict law for those, who fail to fulfil their promises. The government must provide jobs to the youth."
Gurmukh Singh of Jodhan village said: "The MLA must raise our voice and ask the government to provide jobs. Youngsters are promised jobs, but nobody fulfils the promises once the election is over. In the absence of jobs, youngsters here are forced to go abroad. Many youngsters from our native village have settled in foreign countries."
A youngster at Dhatt village said: "We want that a sports park be constructed at our village. Sport grounds are not available in many villages of the constituency. Thus, the successful candidate must focus on building sports ground and promote sports activities." Meanwhile, youngsters in a number of villages also demanded that drug menace be eradicated, so that no more youth ruins his life due to drugs.