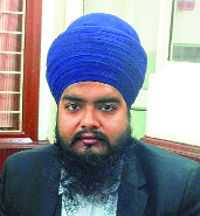 vermaajay1968@gmail.com
New Delhi, February 7
A Sikh lawyer from Maharashtra is facing problems in entering the Supreme Court as security personnel have objected to his 10-inch 'kirpan'. Amritpal Singh Khalsa, who hails from Ulhasnagar in Thane district of Maharashtra, raised the issue on Thursday before a Bench headed by Chief Justice of India Ranjan Gogoi.
"We will certainly look into it," The Bench told Khalsa, who has to appear as a party in person in a PIL seeking ban on production of black film in the top court on Friday.
"Every time I enter the apex court, I am humiliated, made to feel as I am an untouchable. I am denied entry to court premises just because I carry a 'kirpan' for which the security denies entry citing its length to be more than six inches," Khalsa said in a letter addressed to the CJI.
He said the only reason he could think of for being stopped from entering the high-security zone of the Supreme Court was "that I being a Sikh carry 'kirpan', which the security perceives to be a threat." He asserted that the Constitution guaranteed the freedom of wearing and carrying 'kirpan' without any restriction on its size.
"The Constitution in plain and crystal-clear terms allows wearing and carrying 'kirpans', and there is no legislation/rule to regulate the size of 'kirpan', and this right is a fundamental right guaranteed under Part-III of the Constitution of India," the lawyer said. — TNS
Cities