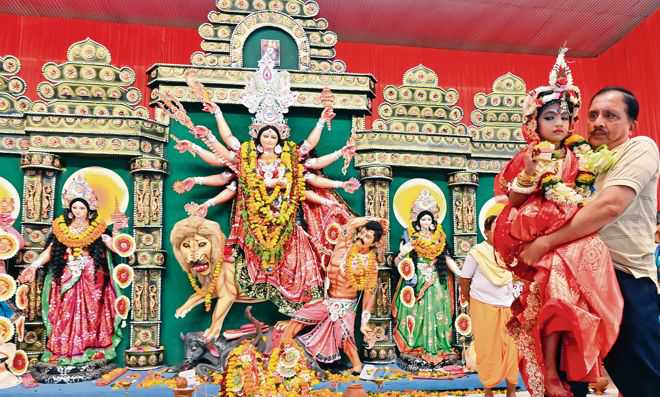 Avijit Pathak
Avijit Pathak
Sociologist
I understand the significance of festivals — particularly, religious festivals — in our lives. No, you need not be a cultural anthropologist to understand that these festive occasions have both latent as well as manifest functions as they seek to consolidate the foundations of culture, help us to overcome the monotony of the routinised everyday existence, and generate some sort of 'we consciousness' or community feeling. And I am also not one of those who believe that religion is necessarily a hallucinating drug. Yet, these days I have begun to realise that as these festivals are becoming increasingly loud, spectacular and marketised, the aesthetics of religiosity or the ecstasy of spirituality or the intensity of communion with the divine is disappearing; and we are becoming mere consumers of entertainment with its food bonanza, gift industry and market-driven packages.
Believe me, even though my ascriptive identity is that of a Bengali, I have lost much of my enthusiasm over Durga Puja. Well, even though I am not particularly fond of idol worship, the art of idol-making continues to fascinate me. And I keep looking at the facial expression of the goddess Durga which, as I feel, reconciles many rasas — maternity, conjugality, feminine grace and extraordinary courage. The idea of the feminine overcoming the brute power of hyper-masculinity has a tremendous appeal to me, particularly at a time when hyper-masculine violence is normalised and even sanctified in the name of militarism, nationalism and developmentalism. Yet, these days as I enter any puja pandal — be it in Kolkata or Delhi — I find myself a stranger. Amid the crowd, the fashion parade, the noise of loud Bollywood music, and the irresistible 'selfie' episode, there is no possibility of remaining silent, looking at the idol with absolute mindfulness, and then seeing beyond it, and establishing a communion with the divine. There is no prayer, even if the priests encourage some sort of ritualism.
In the age of consumption, the colour of packaging, it seems, has become more important than the inner substance. As silence, prayer and spiritual longing tend to disappear, what emerges is the magic of the spectacle. Well, I do not devalue the creative skills of artisans, electricians and decorators who make these puja pandals so spectacular and dazzling. I also do not devalue the significance of some sort of economic vibrancy that these occasions generate. Yet, there is something in it that disturbs me. In Kolkata or Delhi, as I witness what is often regarded as 'theme' pujas, I see what social philosopher Jurgen Habermas regarded as the 'colonisation of the lifeworld'. We cease to exist as dialogic participants engaged in an act of communication as the pujas 'sponsored' by big corporate houses disempower us, and begin to demonstrate the glitz of the corporate world, the power of money, and the glossy ornamentalism all around. The other day in Delhi, I saw a pandal that would remind you time and again that a private airline company, a big corporate house and a leading bank have made it possible. Well, even in a supposedly 'religious' site, we are not allowed to forget the all-pervading presence of the market in our lives. From devotees to consumers, from spiritual seekers to a crowd hypnotised by the spectacle, and from the beauty of the sublime feeling of the union with the divine to the seductive call of the business counters of real estate companies, electronic gadgets and insurance agencies: the metamorphosis is almost complete.
Yes, the market — particularly when the neoliberal ethos is triumphant — is immensely powerful. It seduces; it conquers; it invades our bodies and souls. No wonder, like the 'culture industry', there is now the gorgeous 'gift industry'. As Diwali is approaching, we would be asked to reduce a gift into a price tag, a token of socio-economic status and power. A gift as an articulation of immeasurable love, or a gift as a creative act or an authentic prayer is disappearing. With the management strategy of 'discounts' and 'specal offers'— rapidly disseminated through emails and mobile messages — the 'hidden persuaders' would eventually succeed in generating a feeling: I am nothing if this Diwali I do not give, say, a branded diamond ring to my beloved! No, it is not possible to imagine yet another gift — say, an inspiration to carry the lamp of truth to overcome the all-pervading darkness caused by a mix of totalitarian politics, culture of narcissism and ideology of hatred. Is it that everything would be transformed into its opposite — vice into virtue, consumerism into religiosity, and marketisation into prayer?
No, it is not the right time for cultivating meditative calmness, poetry of silence and music of prayer. Everything in this 'hyper-real' world is entertainment, a spectacle, be it war or cricket, news or boxing, religion or car race. The tragedy is that even spirituality is now a packaged commodity continually sold by the celebrity babas through the management-friendly fancy vocabulary of 'inner engineering' or 'art of living'. Nothing fundamentally alters. We continue to exist as consumers.We remain restless, alienated and aggressive. There is no evolution towards 'divinity' which, as Sri Aurobindo would have imagined, unites the 'physical', 'vital', 'mental' and 'psychic'.
Yet, I find it difficult to forget Kabir and Tagore. When I see corporate-sponsored pujas — and that too hierarchised, ranked and awarded — I begin to sing with Kabir, and tell myself that the divine does not exist in temples or mosques, or in those pandals; the divine is essentially a prayer, a deep feeling of connectedness, a merger with the infinite. Or when I see the Diwali-time advertisements of car companies and traders of gold and diamond, I recall Tagore, and seek to experience the religiosity of a poet — say, the sunray touching my forehead in the early morning, and making me feel that I am not a consumer; I am essentially a seeker trying to feel the grace of the infinite in the finite.