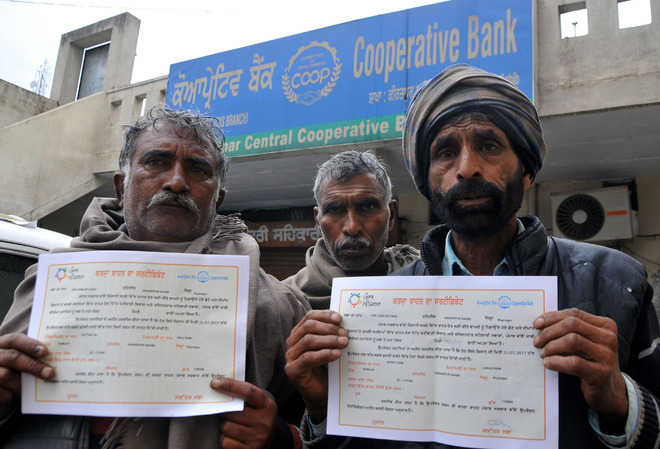 editorial@tribune.com
Arun Sharma
Tribune News Service
Kiratpur Sahib, February 7
While a team comprising officials of the Department of Cooperation and the Central Cooperative Bank started a probe into allegations that loans worth thousands of rupees have been fraudulently raised in the names of five farmers, more farmers come forward levelling similar charges.
Last week, Chint Ram, Gurmail Singh, Jaipal, Amar Chand and Rajpal of Samlah, Paharpur and Baloli villages had alleged that loans were fraudulently raised in their names at the cooperative bank branch at Kiratpur Sahib. They alleged their cheque books were taken away by the secretary of co-operative society. They had claimed loans, which they never applied for, were waived by the CM.
Today, when the members of the probe team were recording their statements, two more farmers reached the bank and alleged they also received loan waiver certificates of over Rs 1 lakh even as they never borrowed money from the bank.
Ram Chand of Samlah village said five year ago, he had borrowed Rs 40,000 from a bank. He, however, was issued a loan waiver certificate of Rs 1.26 lakh a few days ago. Similarly, Anant Ram said he got a loan waiver of Rs 1.14 lakh even as he borrowed Rs 60,000.
Inder Singh, a farmer of Baloli, had alleged he handed over Rs 15,000 against his Rs 35,000 loan on July 24, 2015, to society secretary Sarwan Singh. But, the amount was not deposited in his bank account. Sarwan Singh said the amount paid by Inder was kept for sundry expenses.