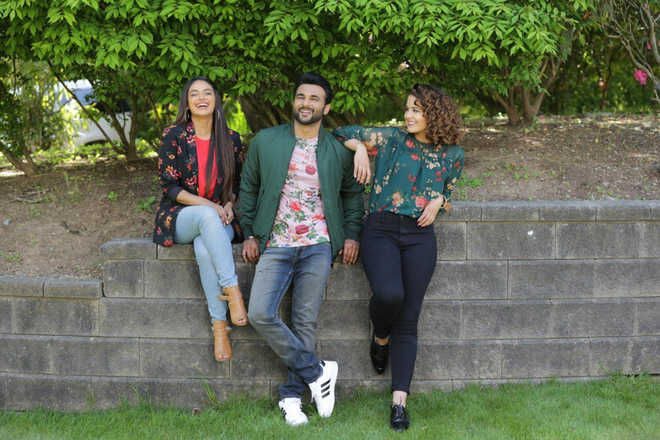 rajivbhatia82@gmail.com
Gurnaaz Kaur
From the outset, what will impress you about this film throughout is its cinematography. Based in Canada, Laiye Je Yaarian is a visual treat with no compromise on the production. Surprisingly, it's not aesthetics alone that are appealing; the acting of all the four leads is good. In places one may feel Rubina Bajwa is out of character but that can be ignored when considering the bigger picture.
So, a story about a young businesswoman Raunak (Roopi Gill), who wants to take revenge from a friend-turned-foe Garry Randhawa (Amrinder Gill), hires a charming MBA topper from India Sukhi (Harish Verma) in a bid to defeat her business rival. The premise may seem simple, but if you read the message in this plot, you are sure to predict a lot of twists and turns.
Coming back to the point, Sukhi is working as a manager in Raunak's transport company. He is given the task to help the company win its 85 per cent shares back from Garry Randhwa. As part of the process, he is expected to meet Jaanu (Rubina Bajwa), a banker, who has to sanction a loan that will resurrect Raunak's transport company. So far, we know there is a business rivalry and it is all shown quite well.
Essential here it is to disclose that Sukhi is not a topper but a failure who harboured the dream of living in Canada and forges the degree to get the job. This con man hoped to live off his friend and had no intentions of sticking to the job, so the fraud wasn't much of a deal initially. Reality strikes when he finds out that his friend had been lying about a lavish life in Canada, therefore leaving Sukhi with no option but to be in the job.
Time for another turn comes, as Jaanu is aware about his poor performance in college. Meeting this bank manager is no less than risking his life but that's the call of his life-saving job. With his smartness, he crosses this hurdle too. His connecting with Raunak and bonding with Jaanu now become the centre of the story. Every now and then, Garry shows up to show off his growing business and his expertise as a leader.
There is confusion about who really is whose love interest. At some points it seems there is love blossoming between Raunak and Sukhi. On other occasions, Jaanu and Sukhi come across as a couple. Whether Garry is Raunak's love interest, there is confusion related to that as well. Love triangle or love square, that's for the end.
With all its complications and confusions, the film mostly keeps you glued. Just, at times, you do wonder where it is all going. So many stories running parallel to each other is perhaps the film's Achilles heel. One gets distracted and none of the story really gets justice as the slow-paced movie is suddenly rushed to a rather slack ending.
But watch this one for its ensemble cast's commendable performance and the many twists and turns.
gurnaaz@tribunemail.com
All readers are invited to post comments responsibly. Any messages with foul language or inciting hatred will be deleted. Comments with all capital letters will also be deleted. Readers are encouraged to flag the comments they feel are inappropriate. The views expressed in the Comments section are of the individuals writing the post. The Tribune does not endorse or support the views in these posts in any manner.
Top Stories